Today's Featured: Stroller Boards, Glider Ride on Boards, Adapters & Connectors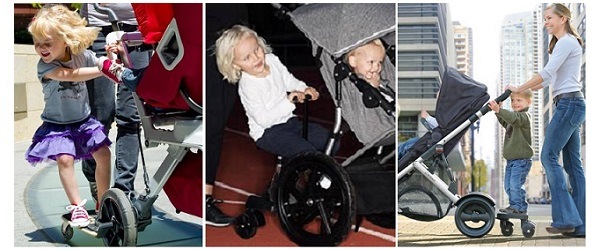 Deals & Discounts
Report a Review!
Don't See a Certain Product on Our Site? Suggest a product through our contact form
Browsing through our reviews and find something that shouldn't be there, or isn't a quality review? Please let us know through our contact form and tell us which product the review is on. Thank you!
Stroller Boards
These are also known as Universal Stroller Board or Buggy Board or Stroller Ride On Board. These easily attach to the upright tubing or frame of the pram, to accommodate one more child on the buggy. Its cheaper, and is considerably easy to assemble and attach to a stroller.
---
Checkout Comparison of All Stroller Boards here…
Stroller Organizers
A Baby stroller organizer provides storage for all the important baby products such as baby bottles, food, diapers, cups, etc, when you're out with your baby for a walk, jogging, to the grocery store, or any other place.
---
Stroller Bags
---
Connectors / Adapters
Stroller connectors & adapters are specialised and very useful accessories that let you connect other components to the baby stroller to make it even more useful to
you, when outdoors.
---
There is no doubt that baby strollers are one of the important baby products out there, that makes your life much more convenient once you have a baby. However, when you have a couple of kids,
you have to figure out what is the best way to go out for walks, with two instead of one child.
If one of the siblings is old enough to walk for some time, preferably in the 3 to 5 or 6 years age group, then a buggy/stroller board may be the accessory you need for your stroller. With a stroller board attached, the stroller is easier to move around (compared to a double stroller) and you can easily take it though narrow lanes when outdoors and through narrow doors, when in a mall.
Everyone will have their own take on what the best stroller board should be like, so I thought of creating this ultimate resource that provides detailed reviews and does an objective analysis of all the top stroller boards in the market.
What is a Buggy Board?
Buggy boards are popular stroller accessories, suitable for families with more than one child, and who already own a stroller.
These easily attach to the upright tubing or frame of the pram, to accommodate one more child on the buggy. It doesn't cost much, and is considerably easy to assemble
and attach to a stroller.
These are also known as Universal Stroller Board or Buggy Board or Stroller Ride On Board.
Why Use Them?
If you have two children, it's a good alternative to investing in a double stroller, if one of the children is a little grownup.
They can easily be added or removed at any time.
Offers a good view to the child who's standing on it.
You have several choices of Stroller Board Attachments.
Who is it Suitable For?
Here are some situations where this stroller accessory comes in handy.
You already own a stroller and have more than one child
One of the siblings is old enough (grownup for strollers) but still need supervision
Suitable for children who are too young to walk long distances
Suitable for children who are grown up and can hold the tubing.
Mostly suitable for children in the age group 2 to 5 or 6 years, weight of 20 to 30 kg.
The Design has a base on which children can stand and comes with 2 to 4 wheels underneath.
So using this this accessory you don't have to carry any of your child, while you push the stroller.
How to Find a Buggy Board That Meets Your Needs
Here are some of the factors that you need to consider before buying a stroller board.
It needs to properly fit your baby stroller so check the dimensions
Four wheel boards are usually easier to manoeuver, and also offer great balance.
If you are good at carpentry work and using tools, you can even make one yourself.
Features
Most buggyboards usually have a universal fit making it suitable for almost all buggies and prams. So look for something that can fit most popular models of prams, strollers, travel systems, single or double pushchair.
You want something that is comfortable, safe, fun & speedy, besides easily connected to your stroller or pram for the perfect stress-free outings.
You want an accessory that provides security for your child in crowds and high traffic areas. When your child is too tired to walk, or when you are in a hurry, these
make it easy for both of you.
The better ones are designed to easily attach to the upright tubing of a stroller or to the frame of a pram. The connectors are made to fit square, oval or round tubings.
Anti-slip surface
This surface reduces the risk of the child accidentally slipping off the board, making it safe and comfortable to stand on.
Width Adjusting
Some boards come with a width adjusting system that makes it possible for it to attach to small as well as wide prams and pushchairs.
Large ground clearance
This makes it more convenient for the parent to walk, so that their legs can easily go under the board.
Suspension System
Better suspension on each wheel provides a smooth and pleasant ride, for the child.
Board Levelling System
Some boards come with a levelling system that allows you to choose the position for the connectors on your pushchair or pram. You just adjust the height of the arms to the connectors height.
Strap connector
The strap connector allows you to attach the connectors to almost any size of chassis tubing.
Lift-n-Store System
It is best to put the board in a resting position when not in use (temporarily). Look for such a mechanism, most boards have straps that is easily adjusted to work with your pushchair or pram.
Watch this video to get an idea of how this stroller accessory can really help you:
Baby Strollers & Accessories
You can also choose from a wide range of Stroller Boards & Accessories to make the ride even more comfortable for your child.
There is no way you can carry on with your outdoor activities, be it for shopping or just for a walk, without a stroller. It becomes just too difficult once your baby
starts growing. And with baby strollers available in so many varieties, that give you multiple options, why not explore them?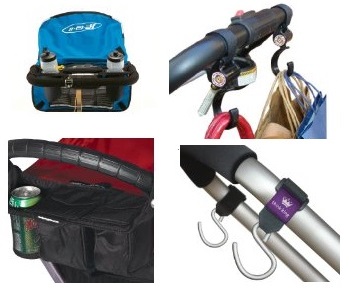 However, looking for the perfect baby stroller can be time-consuming. You need to know more about the different types, and also the various models that are available
on the market for your budget.
This is where this website gives you all the information regarding types of strollers, the popular brands and the best options that are available for your price range.
With all the product reviews and comparisons, you can quickly find the information you need to choose a baby stroller that's right for you and your family.
Remember, though the basic structure of strollers has remained more or less the same over the years, several features such as the ability to fold itself at the touch
of a button, daytime running lights, pathway lights for low-light conditions, ability to display the mileage or charge your cell phone-charging, etc. exists in
strollers.
What to Expect?
Here, you will find useful information on:
Best strollers on the market for your budget
Advantages and disadvantages of each type
Available features and accessories
A baby stroller is indeed one of the handiest pieces of equipment you can get, once you have your own child. You can read detailed stroller reviews here, and also buy them at discount prices from the most trusted and respected shopping sites on the Internet!
More baby buggy board videos here…
Top Stroller Brands / Manufacturers
Checkout Our Stroller Store
The Stroller Store at StrollerBoards.com is a one-stop destination for everything you need to find the perfect, hassle-free stroller. From premium brands like Bugaboo
and UPPAbaby, to popular brands like Graco and The First Years, our Stroller Store has all the options for every need and budget.
Checkout our top-rated standard strollers, lightweight strollers, travel systems, double strollers, and more. You will find the newest and best-selling stroller
accessories of the season, as well as the most popular jogging strollers.
Our selection of brands includes favorites like Britax, Jeep, Chicco, BOB, Summer, Baby Jogger, Orbit Baby, Stokke, phil&teds, Mountain Buggy, and hundreds more.
Within this broad mix, you'll find umbrella strollers, mommy hooks, stroller organizers, and infant carrier frames–plus excellent gift ideas for anyone on your list.
We also bring to you discounted offers and the best deals while choosing the stroller that meets your young one's needs.
Baby Travel/Gear News
Subscribe to RSS headline updates from:
Powered by FeedBurner