Best All Terrain Stroller reviews. Checkout the top strollers from BOB, Baby Jogger, Mountain Buggy, Joovy and Graco, suitable for riding on all surfaces. All-terrain strollers are great for taking your little one on outdoor hiking or trail adventure and even for use within a city with dreadful sidewalks. These strollers have better suspension and provides a smooth ride to your baby while you get your fresh air outside or run errands. Skip to the best All Terrain Stroller on Amazon.
Best All-Terrain Stroller
You get all terrain strollers that are either budget friendly or very expensive. You get quality all terrain strollers for under $200, a few in the $200-$300 range, but the better ones usually cost more than $300, and can go much higher, depending on the accessories.
These are strong and durable, some even accommodate infant car seats.
Best High-End (Bumbleride Indie)
Best Mid-Range (Graco Relay Click Connect)
Best Inexpensive (InStep Grand Safari)
Popular brands for All-Terrains include BOB, Baby Jogger, Mountain Buggy, Joovy and Graco. Active parents can select one of these for their lifestyle.
What is an All Terrain Stroller?
As the name suggests, an All Terrain Stroller can be used on all kinds of surfaces, including of-road surfaces such as gravel, lawn, trails and other rough surfaces. Walking on the beach, through snow, slush is not an issue with these strollers.
And that is because these come equipped with larger tires that grip all types of terrain.
The wheels are larger, fatter and sometimes air-filled, providing better grip over less curated surfaces. Almost all terrain strollers com with three wheels (as opposed to four wheels on some strollers). An all-terrain stroller has three wheels where the front wheel swivels for better maneuvering, and it can also lock straight for jogging purposes. When you have a front wheel that swivels, navigating through tight spaces (aisles and doorways) is easy. In case of strollers, a triangle is considered to be the stablest structure, and less susceptible to toppling.
An all-terrain stroller also a better suspension system. Even though all-terrains are larger in size than other strollers, they are typically easy to fold and store.
An all-terrain stroller is also referred to as a fitness or sport utility stroller.
Why Choose All-Terrain Stroller?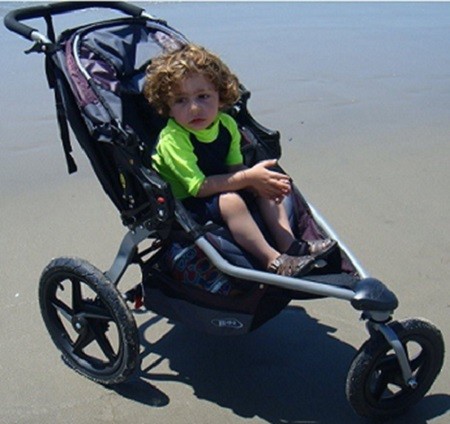 All-terrain strollers are not just for parents who're walkers or joggers; these can be enjoyed by anyone. All-terrains have a sporty, rugged look and is perfect for outdoor places like beach, park trails, fair, amusement parks and the zoo. They are designed to move smoothly over rough sidewalks and an uneven ground, and this is why most rural families opt for all-terrains.
When evaluating all-terrain strollers, look for wheel size, storage capacity, ground clearance, ability to fold easily.
What's the Difference Between a Jogger and All-Terrain
Is there any difference between a jogger and an all terrain stroller?
Although the primary difference is the front wheel, here are more differences:
An all-terrain has a front wheel that can swivel around or lock straight, while a jogger's front wheel is permanently in place (locks straight).
Jogging strollers are best suited for running, but not always the best for maneuvering because of its fixed front wheel (not easy over sharp corners).
An all-terrain has a slightly smaller front wheel compared to a jogger (in most cases).
Jogging strollers may have a slowing brake on the handle for better control (while going down hills, etc.)
So can you use an all terrain for jogging?
Yes, the front wheel can be locked into place and used for jogging.
However, if you intend to do so, make sure you get a good quality stroller from a reputable brand. The inexpensive all-terrain strollers may not be the best suited for running, because the wheels may wobble back and forth at higher speeds.