Best Baby Bassinets. Looking for a bassinet where your little one will sleep soundly? Here are our top picks. These bassinets give you multiple usage modes inside & outside the home. Bassinets allows you to use your origami stroller from birth, and is appropriate for use until your baby starts to push up on their hands and knees (approximately 6 months). Some come bundled with sunshade, carry handle, foot muff and soft mattress.
Bugaboo Bee3 Bassinet
The Urban stroller for parents who live life on the fly. Designed specifically for parents who live life on the fly, the Bugaboo Bee3 for newborn to toddler features an easy to carry lightweight bassinet for exploring the city without disturbing your sleeping child – and an extendable sun canopy offering them even more protection. Brand new fabrics and colors offer creative style combinations and refresh options, while a larger undersea basket means more room for all of your essentials.
High from the ground, easy to carry, soft and lightweight
Extra protection in the first months
Easily move your newborn without disturbing its sleep
Use the self standing bassinet independently on the ground
Base sold separately
Britax 2017 B-Ready Bassinet
Start your stroll with the must-have accessory for every family. The affinity bassinet keeps your newborn sleeping comfortable while showcasing your eye for design. Constructed of high-quality fabrics and materials, this beautiful bassinet is the perfect complement to any of the stroller frame colors. Features extendable canopy visor and zipper ventilation for added comfort. The bassinet comes with a boot cover and rain cover.
Baby Jogger City Select Bassinet Kit
The City Select Bassinet Kit converts your City Select seat and canopy into a Bassinet with just a few simple steps. Restrictions: Newborn – 6 months Max. weight capacity: 25 lbs. Not intended for overnight sleeping. Compatible with the City Select only. Requires a City Select seat to complete the conversion.
Converts City Select seat and canopy into a Bassinet
Padded carrying handles
Protective foot apron to protect your newborn from the sun
Machine washable mattress cover
25 lb maximum weight capacity stroller bassinet
Quinny Tukk Foldable Carrier
The Quinny Tukk lets you greet every day in style. It turns your stroller into a stylish and cozy pram for walks or can be used alone as a convenient carrier. It folds in seconds into a compact package that's perfect for life on the go. Carrier is compatible with Quinny Moodd and Buzz strollers. Adapters included with strollers.
Folds in seconds into a compact package that takes up minimum storage. Sets up just as quickly and easily
Compatible with Quinny Moodd and Quinny Buzz Strollers (Adapters included with strollers)
Protective adjustable canopy
Soft, thick pad included
Accommodates child from birth to 15 pounds
Baby Bassinet: Guide
Some terms can be very confusion for new parents, for instance, a stroller 'bassinet'. I am sure before becoming a parent, not many would even know what it is or what it is used for etc.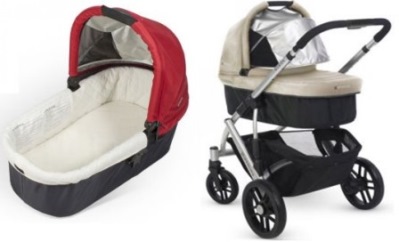 So, to put in simple words, a bassinet is more like a basket that can be attached to the stroller.
How can it be useful?
A bassinet helps especially when your baby wants to lie flat and take a nap. Now-a-days you have many stroller designed in such a way that you can attach the bassinet accessory to it.
The other positive about buying the bassinet accessory is also that you can use the stroller immediately for your newborn baby, all you need to do is attach the bassinet to it.
The negative aspect of a bassinet is that many models don't have a safety harness for your baby's safety which makes it a bit unsafe to use especially if your baby is old enough to jump or sit up in it.
Don't worry about the bassinet from the baby's comfort point of view. The bassinet has a flat bottom, so the baby can nap comfortably, there won't be any slumping unlike the case of a stroller seat.
My last piece of advice to all you parents shopping for a bassinet would be to check the age and weight limit of the bassinet before you purchase. It is necessary to do so to keep your baby safe.