A toy doll pram is an ideal gift for your little girl or biy, in case you're looking for some gifting options. Little ones love to mimic what parents do. These doll strollers give them the opportunity to do so. These prams let your child carry their dolls and stuffed toys around the house, or to the park, just like mom/dad. Skip to the best doll stroller on Amazon.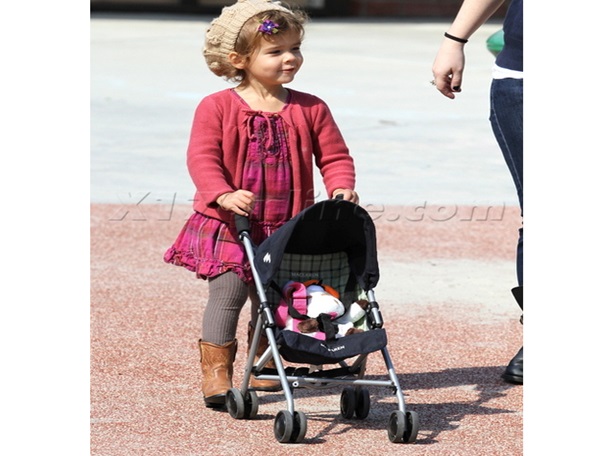 Best Doll Strollers and Prams
Here we take a look at the best Doll Strollers and Prams. Please note that these items are toys for use with dolls only; please do not use it with real infants or pets.
Badger Basket English Style 3-in-1 Doll Pram, Carrier, and Stroller
Watch your little one feel like a proud mama with the Badger Basket Doll Pram. Badger Basket English Style 3-in-1 Doll Pram, Carrier, and Stroller fits most American Girl dolls (figurines up to 24″ in size), it lets your little one take her favorite doll anywhere in comfort and style. Pram rocks and has 7-3/4″ wheels.
The trendy fabrics complete the fashionable look of this three-in-one dolls pram carrier and stroller. Beautiful fabric is cotton/polyester blend and the easy-fold frame is powder coated steel. The carrier lifts off the pram to reveal a stroller.
The sturdy plastic wheels make it easy to maneuver, and the tread gives them some traction. Comes with a stylish boot, pad and handles, making it simple to carry.
All paints and finishes are nontoxic. Spot clean as needed. It requires some assembly before it's ready for use.
Includes multiple play options – pram, carrier, and stroller
Rubber grip on handle for comfortable pushing
Pram rocks and has 7.5″ wheels
Carrier is 6.5″ deep and can be attached to the frame so that the pram faces forward or faces your child
Dimensions: 13-1/2Hx31-1/2Lx17-1/4W".
Badger Basket Folding Doll Umbrella Stroller
If your baby insists on lugging the doll around, half dragging it and half carrying it around, then what you need is a baby doll stroller. You no longer need to carry the doll around, instead you can walk around with this cute little stroller. And don't take it to be just a doll stroller, it has great features too. The Badger Basket Folding Doll Umbrella stroller can be used while you are out in a park for a stroll or in your house. It easily seat a doll measuring around 18". It has a storage basket underneath for carrying baby items, it is easy to fold, it has a folding canopy, safety belt for the doll, a rubber cushioned handle plus it is easy to clean and assemble. The manufacturer recommendation for age is from 3-7 years but there have been reports of the stroller being suitable for a much younger age group too.
Just Like Mommy 3-in-1 Doll Pram, Pink with White Polka Dots – Fits American Girl Dolls & My Life As
The Mommy & Me Deluxe Babyboo doll stroller, not only scores in the "adorable" department but it strikes a 6 in the "features" department too. It has swiveling wheels for easy strolling, a carriage bag , a storage basket, adjustable handles etc. The best thing about this stroller is that the handles can be moved right or left i.e. it can face the street or the child. Not only that but even the doll can be placed either sitting or in sleeping position. It is tested to be lead free, hence safe for your child to use. It is also very easy to use, fold and store.
Step2 Little Helper's Doll Stroller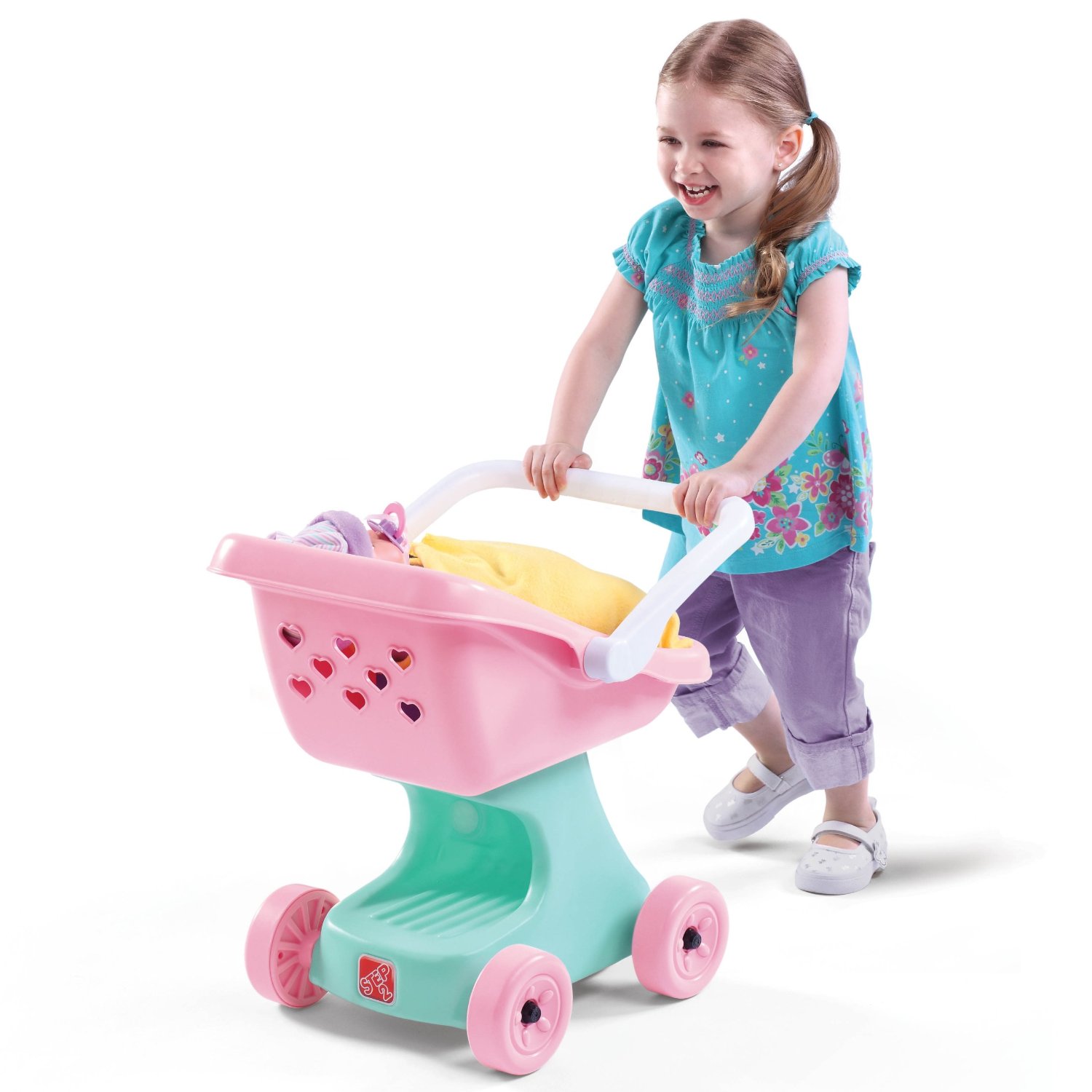 Here's a complete review of Step2 Little Helper's Doll Stroller, a lovely doll stroller where your little can keep their toys and take a tour of the house. Its easy for toddlers and early walkers to push and comes with sufficient space for your toddler to keep their favorite dolls and other toys together. Kids can use it as a stroller or a grocery/shopping cart.
This is a perfect gift for the new walker in your house.
Key Features of Step2 Little Helper's Doll Stroller:
Kids will love pushing along their favorite dolls and other toys
Keeps all the thing together inside the stroller basket
Nicely designed Wheels won't scratch floors and roll smoothly
Comes with a cart bed underneath which gives extra space to keep additional toys and doll accessories (not included)
Easy to clean, wipes clean easily
Easy to set it up
The Chicco Doll Stroller is as real as it gets. With all its features it gives you a feel of a real stroller. Some of its features include – reclining seats, swivel wheels, folding canopy and a storage basket. It is light in weight, easy and quick to fold and very sturdy. You can also store it easily and carry it everywhere you go. The fabric used on this doll stroller is removable and machine washable too. Your baby is definitely going to love it and you will be surprised at how often she will want to go for walks with her doll in the Chicco doll stroller. The manufacturer recommends this for kids between 4-7 years of age but even a 2 year can use this one.
The New York Doll Collection 2-1 Bassinet Doll Stroller is another one of the strollers that look a lot like a real stroller. It is pretty sturdy and so beautiful to look at that your girl will love it. It has adjustable handles which can be easily adjusted as per your child's height. It has a large storage basket to keep your child's belongings. What sets Baby Toy Stroller apart from the rest is that the carry seat can be removed and converted from bassinet style to regular stroller. An 18" doll will easily fit in. You can just fold it and carry it with you everywhere you go and it is easy to store too. Make sure you know which color you are getting while ordering it because the colors may vary. Recommended for ages 4 to 7 years.
Babyboo Deluxe Doll Pram with Swiveling Wheels & Adjustable Handle: The Baby Doll Stroller is something every child dreams of. It is a multi-function stroller, has many features such as it has a folding hood, storage basket, easy to assemble, made of high quality materials, can be easily moved to face the street or your child, its safe and lead-free and can easily fit an 18" doll in the stroller. However, it has one disadvantage, i.e. it cannot be folded. Manufacturer's recommended age is 3 years and above.
---
Top Toy Doll Strollers on Walmart.com
---
Toy Baby Doll Strollers and Prams: Guide
Little girls love their dolls. It is so much a part of their life in the growing up years that it is like another person who they care for. They carry the dolls everywhere they go. In fact my friend's daughter does the same thing and they look so cute with the dolls that I decided to gift her a doll pram for her doll.
Doll prams are available in various designs and colors (although pink remains the most popular color). These uses cushions, and are built just like a real stroller.
The doll and the pram are separable, which means your baby girl can play with them individually, or instead of the doll, take her favorite stuffed animal for a walk. Kids love toy/doll pushchairs; they love to take it all over the place, and are always playing with it round the house.
We all know that kids love to imitate adults, and girls love to play mommies. A pram doll allows your little girl to show off her little toy baby to her friends, or just go for a stroll in the park. A doll pram allows your child to take her favorite toy baby almost anywhere.
I did a lot of research to gift the best doll pram and I was not expecting much. In fact I was worried that I may have to settle for something because of limited choice or budget problems. But I was surprised when I saw that there are plenty of doll pram options to suit all budgets. I've made a list of some of them for you to see, check them out.
Toy Double Stroller for Dolls and Animals
A baby doll (toy) double stroller allows your child to transport more than one doll or stuffed animal – be it for moving from one room to another or to their neighbor's house or to the nearby park.
Toddlers don't have just one toy – they usually have a bunch of dolls and animals, and most of the time, there favorite among the lot happens to be more than one in number. So why restrict your kids to a single toy stroller, buy a twin toy stroller instead.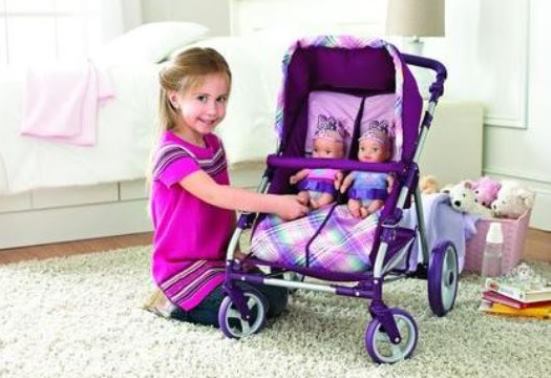 Let your kids take their dollies to the park in style the next time. Some of these toy strollers let you reverse the pushchair seats so that you can change the direction your dolls are facing. Kids don't like facing the same direction all the time, and the same goes for their dolls as well.

Watch: Twin baby Doll Stroller


Toy Car Seat for Dolls
Little girls love to play with dolls, and also like to emulate their moms. A Toy Car Seat for dolls is a great gift for little girls, as most of them own several dolls, and it gives them the opportunity to play "moms".
This is like a a real car seat, but a miniature version and looks very realistic. They can accommodate dolls of various sizes.
Most of these products come with a 5-point harness system where you can place the doll on the seat and put a belt around the doll.
Some of these toy car seats can also be setup in the car, just like the real thing. Girls love putting their toys in these seats, and when they're not in the car, they can carry these around by hand, just like most moms do with their infants.
Just like the real seat, the seat pad on these car seats are removable and washable.
Watch: How to make a Baby Doll Car Seat


Final Thoughts
Girls love to play with dolls and we have listed some of the better ones here (you do get toy strollers for boys as well, mostly in blue color, but there are very few models available). Strollers & prams for girls are available in different colors also, besides pink, though pink continues to be the more popular option for girls. I hope this selection makes it easier for you to find the perfect baby doll stroller for your little angel.
Little Girl Pushes Cat Around in Doll Stroller
Little girl Baylee pushes her very tolerant cat pet 'Monster' around in a doll stroller, just like a baby. Well,
that's what kids love to do, behave like grown-ups/adults.
Child with Doll and Stroller: Painting by Carlos Irizarry
Child with Doll and Stroller is a work of art (painting) by Carlos Irizarry.
Oil on canvas through Puerto Rican/American artist Carlos Irizarry, circa 1965, displays an summary rendering of a tender girl and doll in heat tones of yellow, pink, and blue. Displayed in a carved wooden body.
Artwork Specifications: Oil on Canvas, 30 inches x 24 inches, CollectibleLikeNew
Frame Information: Framed (Carved Light Wood), 36 x 30 x 1 in
Painter and engraver Carlos Irizarry was born in Santa Isabel, Puerto Rico but studied at the School of Art & Design in New York City. He later returned to the island in 1966 where he contributed to the graphic arts movement.