Human beings need to sleep well so that their body can recuperate well, and the same goes for babies as well. The first few weeks after a baby is born, is the most challenging for moms as the baby needs to be fed regularly (every 2-3 hours). It means you hardly get proper sleep in the first few weeks.
However, if you don't learn how to make your baby sleep at night, your sleeping pattern will be disturbed for a long time to come. Here we take a look at some effective techniques that you can incorporate so that your child learns how to sleep on his own.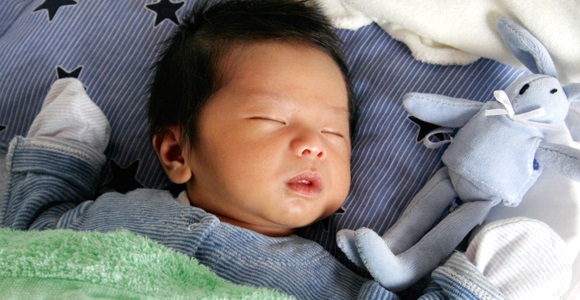 Importance of Baby Sleep
Remember that your baby needs enough rest to stimulate his/her growth and development. Babies therefore need their sleeping time to develop muscles, limbs, and skeletal structure.
You need to create an environment that is conducive to sleep, so that your child can slowly learn to fall asleep on his own.
In order to achieve a good night's sleep for your baby, it is important that your baby's bed is cozy and offers security for them to get a good night sleep. There are so many wonderful patterns and fabrics on the market today that choosing the right bedding should not be to difficult.
Here are some useful tips on how to get your baby to sleep on his/her own.
Baby Sleep Tips – how to get your baby to sleep on his own
Lack of sleep are some of the most common problems parents face with their kids. Getting and keeping a child asleep at night is a major concern. Not only is the little one uncomfortable, but so are their mothers. Anyone who has ever had a young child or baby in the house is well aware of the misery that follows a sleepless night.
Infants under a month old and some older babies often appreciate being swaddled. They should be snugly wrapped in a blanket for warmth and security. It can help calm a baby down and may keep her from being awakened by her own "startle reflex" at night.
Establishing a predictable bedtime routine is one of the best ways to ensure that everyone in the house will get a good night's rest. With very young infants, the process will take time and they still need middle of the night feedings.
Once the nighttime feedings become a thing of the past, a great baby sleep aid is to warm a bottle or breastfeed right before the baby is laid down. Being fed and comforted with the warmth of a mother, it will help the baby settle in for the night.
Warm milk is naturally the most famous of the home remedies designed to help an infant go to sleep. The babies will benefit from a comforting drink.
In terms of baby sleep tips, one of the most important things you must try and establish as a parent is getting your baby to learn to fall asleep on his own. Your baby needs to learn to sleep on his own, the added bonus being own you will also get some much needed rest yourself.
One of the best ways in which you can speed up this transition is to encourage your child to develop sleep associations between nighttime and sleep, that he or she can recreate independently.
A period that is often overlooked, however, in establishing day vs. night associations, is the period of "transition" – that is, the one between being awake and falling asleep.
If you always put your child to sleep by holding him, or allowing him to use a pacifier, you create a sleep association with these things. Then, when your child wakes up in the middle of then night, he can't go back to sleep on his own because he is unable to recreate his sleeping environment without you: he needs you to feed him or rock him in order to sleep.
As you begin to try and get your child to sleep on his own, you should introduce items into his sleeping routine that he can sleep with, such as a particular blanket or a stuffed animal. What this will do is create associations for your child (without your assistance) with these items for sleep.
It can also be beneficial to introduce "transitional items" into your baby's bedtime routine: Allow him to have his stuffed animal or blanket with him during a final feeding and before-bedtime activities, and allow him to take these things with him to bed.
By giving your child as much control over his sleeping environment as possible, and by introducing new items into your child's sleeping place, you allow him to begin to achieve sleep independently.
Here are some more transitioning techniques to try:
Try what is sometimes called "fathering down." Just before placing the baby into bed, the father should cradle the baby in such a way that the baby's head rests on the father neck. The father should then talk gently to the child. Because the male's voice is much deeper than the female's, babies are often more soothed by it, and will fall asleep more easily after being exposed to it for some time.
You can also try what is sometimes referred to as "wearing down." This is effective if your baby has been active throughout the day and is too excited to go to bed easily. All you have to do is place your baby in a sling or carrier – "wear him" in other words – for about half an hour before his bedtime.
Simply go about your regular household activities: being close to a parent and slowly rocked about before bedtime will provide your child with an easier transition from being awake to being asleep.
Finally, if you've exhausted other options, you can go for the tried and true method of "driving down." Most parents are probably familiar with this as a last resort: place your baby in the car and drive around for awhile until he falls asleep. This one, while inconvenient, usually works every time, and if you desperately need some sleep it can be a godsend.
Obviously, you don't want to do things like drive around every night to get your child to sleep. Nor do you want to have to carry him around in a sling. The idea, though, is to start with these more drastic techniques and then slowly ease out of them.
By employing these transition techniques you will be slowly teaching him how to do so, and as they are gradually removed your baby will learn good sleeping habits, which will ensure that both you and your child get a good night's rest.
It Doesn't Have to be Complete Silence
Many people naturally assume that the best environment for sleep is one of total silence, However, in his mother's womb, situations were far from quiet. For this reason a newborn baby will often sleep better by being exposed to some quiet background noise.
You should be trying to allow some ambient "white noise" to be around your baby when he goes to sleep. Sudden loud noises will, of course, rouse him, but in most cases some background chatter and other soothing noises will help the sleep process: most adults, I'm sure, can likely remember falling asleep to the sounds of their parents and their friends having a conversation.
There are products marketed to new parents to create these ambient noises, most notably audio CDs containing tracks of soothing noise.
In a similar vein, if your baby falls asleep around company, allow him to stay there rather than moving him to a quiet room.
Often a humming noise can help, we all know how easy it can be to fall asleep in a moving car so having a humidifier or fan in the baby's room can often do wonders.
Whatever solution you choose, remember that it needn't be overly complicated. Simply leave the door ajar, or let your baby sleep in the company of others. Contrary to what many people intuitively think, if you keep your baby from sleeping in total silence, he'll often sleep much better.
Baby Sleep Tips – Making Your Baby Comfortable
One of the most important elements of achieving this (baby sleeping on his own) is to create an environment where your baby is as comfortable as possible. For this reason, the before-bed routine should always consist of changing and feedings. The worst thing for a baby, in terms of sleeping well, is to be in want of something when he is put to bed.
One of the most commonly overlooked aspects of this is allowing your baby to breathe easily through the nose. Most people, but especially babies, depend on clear nasal passages for a good night's sleep. It's important to remove all airborne allergens in the baby's nursery: everything should be well dusted, and you should keep dust collecting items like fuzzy blankets and stuffed animals to a minimum.
When your baby is very young it takes time for him to learn to breathe through his mouth, so you must carefully pay attention to his nasal breathing when putting him to sleep. If you notice the problem is persistent, you may benefit from installing an air filter in the room that is designed to remove dust particles and allergens – this also has the added bonus of creating a soothing hum that will help many babies sleep better.
You should also pay particular attention to your baby's clothing.
Consider how well your baby sleeps with wet diapers. Most babies will not sleep through the night with a wet diaper. If this is the case, you can often solve your baby's sleeping difficulties by giving him a change in the night.
Although it is tempting to follow guides and stick to hard and fast rules, remember that the adage "mother knows best" is generally true. So if your baby seems uncomfortable in his clothes, don't hesitate to change him into something that doesn't "look" as comfortable. If you trust your own judgments over those of guides in terms of your baby's comfort, it's likely that he will sleep much better.
Feeding Habits
Now, one thing you should consider when trying to get your newborn to sleep better at night is what his feeding habits are.
A good technique, then, for getting your baby to sleep better at night is to "tank up" during the day. Try feeding every three hours during the day. This will not only ensure that you child's appetite is satisfied for the night, but will create an important association: you want your child to associate feeding with the daytime. If your child does wake up in the night for a feeding, try to get him to do one full feeding the first time he wakes up. If you don't do this, you encourage him to "snack" throughout the night i.e. wake you up every couple hours.
You want him to associate feeding and play with something that happens during the day, and lullabies and baths as something that happens at night, before bed. By doing this you ease the transition between sleep and wakefulness, which is the ultimate goal in terms of putting your child to bed easily.
Baby Sleep Tips – The Ferber Method
Invented by Dr. Richard Ferber, the Ferber method is the most common way of weaning your child away from the mother, in terms of his sleep habits. It is usually successful within a couple of weeks.
Nevertheless, it is important that you choose a week where you can afford to lose some sleep to begin the Ferber method. Especially at the beginning of the process, the Ferber method does require that you spend a lot of time listening to your baby crying, and if you attempt it at a time when you are desperate to sleep, you run the risk of breaking down and allowing your child to sleep with you, or sleeping in the room with him.
If you do so you risk undoing a lot of work that you will have put into the method.
The first night you attempt the Ferber method, put your child to bed as you normally do. Your baby should be tired but still awake when you put him to bed, so that he is left to fall asleep on his own. After you leave the room, the baby will inevitably start crying. Allow him to cry for about 5 minutes, then re-enter the room to console him. It's important that you stay in the room for only a short time even if he is still crying and that you don't pick him up or rock him.
This second time you leave the room, wait 10 minutes before returning in the same manner. The third time wait 15 minutes, and set this as a maximum wait time for the rest of the night.
Every time thereafter, enter the room briefly and then allow your child to cry for 15 minutes. Eventually, he will fall asleep on his own during one of the 15 minute intervals in which you are out of the room. The second night, you should begin with a 10 minute wait before re-entering the room, followed by 15 and then 20 minutes. In a similar fashion, increase your initial and subsequent wait times by 5 minutes each night.
Using this method your child will soon learn to go to sleep on his own. Although it can be difficult to listen to your baby cry, understand that the Ferber method is a safe and effective way of getting your baby to learn to sleep on his own.