Best bike trailer, stroller and a jogger rolled into one product that offer genuine thrill to kids. Here we take a look at the top rated bicycle trailers…
Overview
This one is a hot favorite of all the active parents who are regular joggers. At one look, the Jogging Stroller Bike Trailer may look like a regular stroller but it is not just that. The various transformations of this stroller will amaze you. At one time it is a regular stroller for everyday use, you can also use it as an all-terrain baby jogger stroller when you feel like jogging and if you decide you want to go cycling, it transforms from a jogging stroller to a family fun ride bike trailer.
It is versatile and can convert itself so easily that it is growing to be very popular among parents. With the fuel costs going up, many parents want to switch to cycling but worry about the transport system for their kids, but not anymore. With the jogging stroller bike trailer, parents can easily take their toddlers and infants in the bike trailers which are not only safe but also comfortable and spacious for your child.
You will find several brands offering jogging stroller bike trailers today. The growing demand for it has brought about a variety of options in different brands. Some of the popular one's being InStep, Burley, Baby Jogger etc. But you don't have to worry about which brand to choose from, because I have selected the best out of the lot and reviewed the top 3 choices for you.
Criterion for selecting the top 3 choices
Here are the parameters that we have considered to compare the various bike trailers:
Durability
Style
Ease of use and conversion
Safety for kids
Price/ affordability
Customer satisfaction
#1 – Burley Encore Bike Trailer
The Burley Encore Bike Trailer can easily convert into a stroller, jogger, bike trailer and a ski unit with the right conversion kits that you can buy separately. This is what makes it extremely cool. It is sleek, spacious and can easily fit 2 kids. What's more? The maximum weight capacity of the Burley Encore is 100 pounds, which means that it can even carry older and bigger kids.
The 5 point safety harness that is richly padded helps the kids to be comfortable and secure in the cabin. Unlike the bench styled seats in other brands, Burley Encore has hammock styled seats that are more comfortable.
While in the stroller mode, the handle bar can be used to push the stroller and it can be comfortably pushed by either a short or a tall person. The handle bar can also be converted into a roll bar. It has a cool design with tinted windows in the side that not only adds to the style but also protects your kids from harmful UV rays.
While it is rated high for customer satisfaction, this product does not come cheap. It's a true luxury product.
Some other key features of this Jogging Stroller Bike Trailer
Easy to transport with fast- action folding system
Compact when folded, fits easily in the car trunk
Enough cabin space for 2 kids
Plenty of storage space
Easy to push tires that are alloy wheels with pneumatic tires
Washable and removable seat pad and shoulder harness
Padded seat cushions
Reclining seats
Side windows that are tinted
Parking brakes
Sunshade can be adjusted
All weather cover (water resistant)
Dimensions
Weight of trailer : 24.8 lb/11.2 kgs
Maximum weight limit: 100 lb / 45.4kgs
Size when it is open: 34.0"(L) x 31.0"(W) x 37.0"(H)
Size when it is folded: 36.0" (L) x 31.0"(W) x 11.0"(H)
Height (interior) : 25.0" / 65.0cms
Width (interior) : 21.3" / 54.0cms
Width (Interior seat) : 19.5" / 50.0cms
Height of handlebar: 30" – 46" / 76-117cms
Accessories Available
What is a stroller without its accessories? You can buy some great accessories with the Burley Encore Bike Trailer too but its optional. With the right accessories, you can transform the stroller anytime to suit your needs. Some of the accessories that are available in the market are:
1-wheel and 2-Wheel stroller kit
Ski kit
Jogger kit (double)
Baby snuggler
Handlebar console
Trailer light kit
How much should you pay for your Burley Encore Bike Trailer?
As mentioned above, the Burley Encore is in the luxury category of cost, but online sites offer good promotional deals from time to time. So, keep an eye on these sites and you may get lucky with a really good deal.
#2 – Baby Jogger POD Chassis
If you compare the Baby Jogger POD with the Burley Encore, you will find many similarities in style, quality, storage and other features between them. In fact the two are so similar, that you may find it hard to differentiate between the two. They look alike in terms of design albeit a few additional features in the Burley Encore.
The differentiating factor between the two brands is also that the Baby Jogger POD does not convert into a ski unit.
Having said all that, POD comes with its own set of additional features. It has a quick fold system which makes it easier to transport, It is made of aluminum and is light in weight, it converts easily to a stroller and an all-terrain jogger stroller without the help of tools. Like the Burley Encore, the POD too has a 5 point safety harness and can carry 2 kids which includes older and heavier children too because it has a maximum weight capacity of about 100 lbs.
The adjustable handle on the POD makes it convenient for parents to push it as per their height preference. It has an additional conversion kit that can be purchased separately. This is really helpful because you only need to buy stuff that is useful for you and save money in the process.
some other features of Baby Jogger POD Chassis
Can be folded in one simple step
No tools required for conversion kit
Uses a 2-wheel stroller kit that converts into a standard stroller from the POD
The stroller mode has the wheels not far out in the front like in other brands
Has air filled large 20 inch tires that is easy to push and covers more ground than the strollers with smaller tires
Hand operated brakes located on the handlebar, giving you better control when jogging or strolling
Good storage for carrying children's items, or groceries
How much should you pay for your Baby Jogger POD Chassis?
The Baby Jogger POD is more expensive than the other two brands in the review. But despite the price, the POD is a good stylish and finest quality design among bike trailers.
#3- AOSOM Elite II 3-in-1 Double Child Bike Trailer/ Stroller/ Jogger
The AOSOM Elite II may not score high points in style but when it comes to versatility, it is on par with the Burley and Baby Jogger.
It has a steel guard around its wheels on either side of the cabin which makes it a little unattractive in terms of design but it is a great safety feature for the occupant. It is strong and rugged and will protect your child. It is reasonably priced and packed with some great features. Like the previous 2 brands, the AOSOM Elite too can hold 2 kids and has a maximum capacity of 100 lbs.
The best feature is however the fact that the conversion kit is included in the purchase unlike the previous 2 brands where it has to be purchased separately.
some other features of the AOSOM Elite II 3-in-1 Double Child Bike Trailer/ Stroller/ Jogger
Adjustable handlebar makes it great to push the AOSOM comfortably
Better security for child with the pocket styled seats
20″ front wheels that is ultra smooth and rides well on all terrains
Sling seat with 5 point harness for security and comfort
Will easily fit into most car trunks when folded
2 in 1 weather canopy to protect the child from rain and sun
Storage in the rear area
6 reflectors on the front rear and wheels
6' long safety flag
Dimensions
Weight limit: 100 lbs
Assembled weight: 37lb
Full dimension: 55" x 37" x 43"
Folded dimension: 32" x 27" x 9"
Interior dimension: 27.5" x 23" x 24"
Rear wheel size: 20"
Front Wheel size: 12"
How much should you pay for AOSOM Elite II 3-in-1 Double Child Bike Trailer/ Stroller/ Jogger?
If price is your factor for buying a trailer/ stroller/ jogger, AOSOM is the right product for you but if you are particular about the design and not on a budget, I would recommend Burley or Baby Jogger.
Child Bike Trailers – Parts and Accessories
Child Bike Trailers – Universal Parts and Accessories.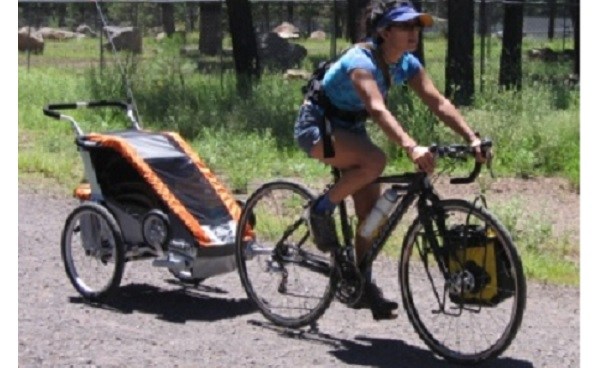 Over the years, Bicycle Trailers undergo all sorts of wear and tear. However, you can still extend its life by replacing the worn out parts. The good thing is that you can easily purchase replacement parts and accessories for any brand of Bicycle Trailer.
Want to turn your child trailer into a jogging pushchair? Need an extra bracket for your second bike? Looking for a coupler to attach your Trailer to a bike?
Doesn't matter if you have a child trailer or a tagalong bike, you can add years to their life by investing in quality spares. Replacement parts help you adapt and repair your trailer for a longer life.
Here you will find universal parts and accessories for Child Bike Trailers, including hitches, tow bars, hitch nuts, safety straps, lights and more.

Watch: How to attach the InStep bike trailer


Conclusion
With a stroller that converts to jogger and trailer, more and more parents are now opting for such products. For active parents especially, this is of great help since, the stroller can easily convert to a jogger while jogging and for those who feel like cycling, can use it as a trailer. Products like Burley, POD and AOSOM are amongst the best out of the lot among strollers and rate high in customer satisfaction. You can decide which stroller-jogger-trailer best suits your needs on the basis of the features reviewed above.
Also Read: Parts & Accessories for Bike Trailers.