Best BOB Strollers reviewed here. One of the more trusted brands in the market, BOB Strollers offer several models (single and duallie strollers) that are available for a wide variety of conditions and come in a variety of colors. Skip to the best Bob stroller on Amazon.
Best Bob Strollers
In general, BOB strollers are known to offer a smooth ride and better maneuverability.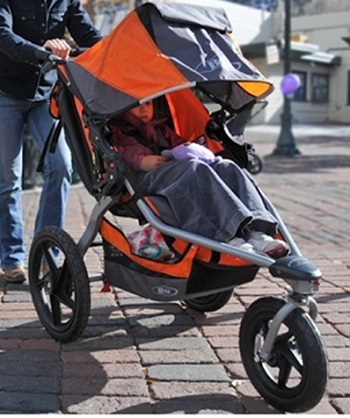 BOB strollers have great options for the more active parents, such as the Revolution Flex or the Sport Utility single, which have a wrist strap, handbrake and large, all-terrain tires fit for jogging or off-road strolling.
BOB's everyday strollers — the BOB Motion and Revolution SE — provide comfort, safety and ease of use. The BOB Motion has four smaller wheels, however, which makes it less bulky than BOB's three-wheeled sister strollers, but it offers more stability.
Ease of use has always been the positive feature of BOB strollers. Even when carting around two kids, BOB's side-by-side strollers are still maneuverable and easy to fold.
Despite all those good things about BOB strollers, users have pointed out flaws like small storage baskets (in some models), though they all have additional pockets throughout. some of the models were also on the heavier side (but then that makes them sturdier and durable).
These are some of the best Bob strollers based on available features, ease of use, weight, safety, accessories and more.
BOB Revolution Flex
Whether you want a vigorous training session or a nice long walk, Bob Revolution FLEX is the ideal jogging stroller. The front wheel swivels, which allows for easy maneuverability through parks, city streets and other tight spots, but also locks for added stability when jogging or taking on rough terrain.
With its large, all-terrain wheels, state-of-the-art suspension system and five-point harness to keep baby secure, the BOB Revolution Flex is a great jogging stroller for active parents. They cite how easy it is to push and maneuver, although its large tires make it tough to pack away in a car trunk. The stroller's adjustable, padded handle is helpful to parents of different heights.
Pros: Smooth, comfy ride for baby. The stroller has a superb (adjustable) suspension system and offers smooth maneuverability (on all kinds of terrain). The large canopy is a big plus, comes with a "peekaboo" window to let parents keep an eye on their child. High on safety – five-point safety harness, wrist strap and easy-to-use brake. Adjustable handlebars. Opens and collapses easily.
Cons: Heavy and bulky, especially when folded. Cup holders and trays sold separately. A bit on the heavier side (weighs a little over 26 pounds). The plus-size wheels make it a bit bulky for some users; it was difficult to squeeze into compact car trunks even when folded.
The BOB Revolution Flex Stroller is great for your running or jogging routine. You can further convert it into a complete travel system by buying additional accessories like the car seat adapter which makes it easier for you to move your baby from the car directly into the stroller.
When you jog, you want a stroller that feels easy to push, smooth for both your baby and you, maneuverable, all of which the BOB Revolution Flex Stroller is. In fact, one of the customers even called it "Cadillac for joggers". It also has all the safety features that you would want for your baby to stay safe such as hand brakes, adjustable strap, canopy a safety harness etc.
Here are the main features of BOB Revolution Flex Stroller
Adjustable handlebar to suit different heights of parents
Easy to maneuver with the swiveling front wheel
Also has front wheel lock to help you track in a straight line while jogging
Easy to fold – just in 2 steps
Easy to transport , light to carry around
Suspension system ensures a smooth ride for the baby
Comfortable, amply padded seats that also recline
Five point harness system keeps your baby safe and secure while in the stroller
Maximum weight capacity is 70lbs unlike normal strollers that are around 50lbs
Stroller folds flat and further reduces in size once you remove the wheels, making it a space saving stroller
Available in bright colors and has a sleek design
Comes with a shade canopy
Also has a version with handbrakes provided in the stroller which is an additional safety measure
Comes with a wrist strap for the parent as an additional security especially while going downhill
Comes with a storage compartment to carry your baby items
Overall, the BOB Revolution Flex Stroller is a great stroller that has both aesthetic as well as safety features and is perfect for all you jogging enthusiasts. But if you need a lot of room to carry things on your stroller, you may take a look at the Joovy Zoom 360; users loved its roomy storage basket. If you need something really lighter, you might want to consider an umbrella stroller instead.
Buy BOB Revolution Flex Single Stroller on Walmart.com
BOB Revolution Flex Duallie
The double version of the BOB Revolution Flex, the Duallie offers the same easy maneuverability and smooth ride. Even for a side-by-side stroller, parents praise how easy it is to push and turn. The multipositional canopy and reclining, padded seats keep both kids comfortable while parents go on a run.
Pros: Infant seat adapter. Smooth, comfortable ride for both kids. Maneuverability.
Cons: Narrow footrest. Seats don't fully recline or sit upright. No cupholders or tray.
Buy Bob Revolution Flex Duallie Stroller
BOB Sport Utility
The BOB Sport Utility's large, knobby wheels and shock-absorbing suspension are built for any off-road strolling experience. The five-point harness, handbrake and wrist strap help parents keep baby safe and secure when hiking through the woods or jogging over rough terrain.
Pros: Handbrake and wrist strap. Large tires can handle all terrain. Five-point harness keeps baby secure.
Cons: Bulky. No cup holder or parent tray.
BOB Motion
The BOB Motion is the only BOB traditional stroller with four wheels. Though its design isn't as sleek as its three-wheeled counterparts, the Motion still possesses similar favored features, such as a smooth ride for baby, fixed front wheels and one-handed folding. Parents like how the BOB Motion grows with their child, thanks to the car seat adapter and reclining seats.
Pros:Maneuverability. Easy one-handed folding. Height-adjustable handle.
Cons: Seat doesn't fully sit upright. Small storage basket.
BOB Motion Travel System
This travel system pairs the BOB Motion stroller with a car seat so baby is mobile from Day One. The car seat connects to the stroller through an adapter, which could be removed once the child is old enough. Even though parents say the stroller is heavy, they also feel it is sturdy and keeps baby safe.
Pros: Baby feels safe and secure. Large canopy completely covers baby. Front-locking wheel prevents swiveling. Fabric easy to clean.
Cons: Heavy. Small storage basket hard to access.
Read full review here.
BOB Revolution SE
Favored by parents for everyday use, the Revolution SE features signature BOB qualities: easy maneuverability, one-handed folding and durability. Though the storage basket isn't very big, parents did like the extra pockets on the inside of the child seat and on the back. Parents feel their child is safe: An infant car seat can click into the stroller attachment. When baby reaches toddler age, she is secured by the stroller's five-point harness.
Pros: Handles off roads well. Car seat attachment connects to any BOB car seat. Maneuverability. Its lightweight and easy to fold
Cons: Foot rest too skinny. Taller children don't fit. Takes up bit more space than a 'classic' or 'convertible' stroller.
Who is it for?
The BOB Revolution SE Single Stroller is recommended for babies over 3 months, and for kids up to a weight of 70 pounds. Its not recommended for babies under the age of 3 months because the seat does not recline completely.
Watch: BOB Revolution SE Single Stroller


The seat reclines up to 150 degrees (not completely horizontal). The stroller great for runners and for those who often travel by car.
Good Suspension
This stroller offers great maneuverability because of the big wheels with inner tubes. The front wheels pivot (with the option of locking).
You get three levels of suspension (to reduce vibrations and rebounds).
Easy Storage
The stroller folds for easy storage. The wheels also can be removed quickly.
BOB Revolution SE Single Stroller is perfect stroller for all kinds of your adventures. This is a great stroller that moves really well on rough surfaces, and also folds to a compact size.
With the latest innovative features, the Revolution SE is perfect for any sport experience. From the zoo to the beach, zip through congested areas and around tight corners with the revolutionary swiveling front wheel or lock it in place for increased stability jogging or when the terrain turns tough.
Easy fold, lightweight design means this BOB is ready to stow, go or roll wherever life moves you. The state of the art suspension ensures baby will have a smooth ride on the journey. If your little one is not quite ready for the roomy, comfortable seat, the Accessory Adapter feature quickly secures a BOB Infant Car Seat Adapter or Snack Tray when he's older. Also available in a Duallie two seat model.
Swiveling front wheel allows for superior maneuverability, locks forward for increased stability jogging or when the terrain turns tough
Easy, two step folding, lightweight frame for convenient transport and storage
State of the art, adjustable suspension system provides an exceptionally smooth ride
"Accessory adapter allows for quick & easy attachment of the Infant Car Seat Adapter or Snack Tray. Infant Car Seat Adapters available for BRITAX/BOB, Graco, Chicco and Peg Perego infant seats
Ultra padded, adjustable reclining seat for enhanced seating comfort, five point padded harness keeps your child comfortably secure
BOB Revolution SE Duallie
The Revolution SE Duallie is the two-tyke everyday stroller. Similar to its single counterpart, the SE Duallie gives babies a smooth ride in the padded seats — though tall kids have trouble fitting comfortably. Parents with taller toddlers say the canopy grazes their child's head and the footrest is too narrow to set their feet.
Pros: Padded seats keep kids comfortable. Straps easy to adjust. Easy to push.
Cons: Storage difficult to access. Accessories sold separately.
Source:
nerdwallet
More BOB Strollers
BOB 2016 Revolution PRO Stroller
The Revolution PRO is BOB's most deluxe on- and off-road stroller. Fully loaded for all your adventures, this stroller is perfect for intense workouts or casual strolls. The Revolution PRO is amazingly versatile. It has hand-activated rear drum brakes for maximum control on downhill slopes, so when you're picking up speed or hitting some hills, your little one is safe at hand.
This stroller can go anywhere. The front wheel swivels, which allows for easy maneuverability through parks, city streets and other tight spots, but also locks for added stability when jogging or taking on rough terrain. And the Revolution PRO boasts an ultra-smooth ride for your little adventurer. The state-of-the-art adjustable suspension system takes bumps in stride. Boardwalks, beaches and trails are no match for this stroller. As for pushing, the adjustable handlebar offers 9 positions to provide a perfect fit for parents of different heights. One-hand recline makes adjusting the seat angle a snap, and fully upright seating lets your child take in all the surroundings. And keep all your supplies, gear and even a few toys in the extra-large cargo basket. When you're done for the day, fold the stroller in seconds for easy storage. Combine the Revolution PRO with an infant car seat, like the BOB B-Safe 35 by Britax, to create the best travel system for your lifestyle. So let loose! Take your adventures to the max with the BOB Revolution PRO. BOB, the #1 jogging stroller.
Hand-activated, rear drum brakes for the best downhill control.
Swiveling-locking front wheel swivels to maneuver tight turns with ease or locks forward for increased stability when jogging or on rough terrain.
Adjustable padded handlebar offers 9 positions to create the perfect fit for parents of all heights.
State-of-the-art adjustable suspension system offers 3 inches of travel and 2 stages of weight support for an ultra-smooth ride.
Easy, two-step fold for convenient transportation and storage.
Hand-Activated, rear drum brakes for the best downhill control
Swiveling-Locking front wheel swivels to maneuver tight turns with ease or locks forward for increased stability when jogging or on rough terrain
Adjustable padded handlebar offers 9 positions to create the perfect fit for parents of all heights
State-Of-The-Art adjustable suspension system offers 3 inches of travel and 2 stages of weight support for an ultra-smooth ride
Easy, two-step fold for convenient transportation and storage
Also Read: