The bicycle stroller is another interesting way to keep you on the move, with your little one besides you. A bike stroller combines the advantages of a bicycle and stroller, it provides a two-wheeled mode to get around town, and converts into a stroller when required. While some parents worry about the risks when cycling on road, others saw no extra risk and no difference between cycling and walking with a stroller.
Cycle Strollers
Lot of moms want to continue leading the active lifestyle which they used to pursue before pregnancy. While jogging strollers are commonly used by moms who want to stay fit, few adventurous moms even go skating with their stroller, attach a scooterto it, or use a hover-board with the stroller. Now you even have the option of cycling while your baby sites in the stroller.
Several different cycle strollers have been launched in recent months, and almost all of them have the stroller seat in the front, which is the right way I guess. I wouldn't be very comfortable if the stroller seat was behind on the cycle.
Here are some of the popular stroller cycles.
Taga Bicycle (bike) Stroller
The Taga has been garnering attention in recent times because of its futuristic design. It can easily toggle from bike mode to stroller mode in less than 20 seconds.
Watch: Taga bike / stroller


In bicycle mode, the child is kept securely in the front portion of the bike, while in the stroller mode, the Salamander bicycle stroller transforms to a traditional stroller design.
Salamander Cycle Stroller
Easily converts into a stroller or delivery cart. Easily passes through commercial doorways and transit vehicles, such as buses and subway cars. It also folds down for easy transport in vans and SUVs. No assembly is required, you only have to adjust the handlebars and seat, and you are ready to stroll.
Watch: The Salamander Baby-carrying Bicycle Stroller


Its recommended that you (and your child) wear a helmet when in the bike mode. Once in the stroller mode, the helmets can be removed.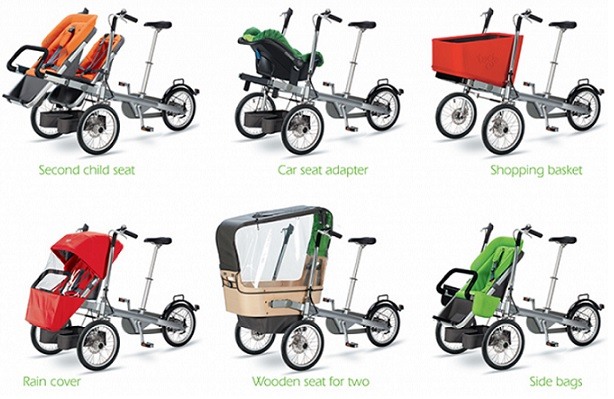 Useful Links