Most countries have made it mandatory for parents to use a baby car seat, if you have a baby travelling along with you in a car. Baby car seats are used to carry children safely in cars while travelling. Learn more about the various types, and how to buy the right infant car seat.
Why Use a Baby Car Seat?
Baby car seats, also referred to as child safety seats or child restraint systems or restraining car seats, are designed specifically to protect babies from injuries or death in case of accidents. It increases the safety of babies. Most manufacturers have now started to integrate child safety seats directly into the vehicle design.
Types of Baby Car Seats: Based on Age and Weight
Different types of baby car seats are available depending upon the weight and age of a child. These seats are made of foam padding, fabric covers, and harness. These products are designed to maintain the correct angle so that the baby's head does not fall forward while the car is in motion. Besides, a baby car seat should not be used for more than 6 years, as they need to be periodically re-examined by manufacturers.
Buying the right car seat as per your child's age and weight is very important. If you end up buying the wrong size, your child can be really uncomfortable in it. Needless to say, it could also pose a safety risk to the child. Not all car seats are applicable for children for all ages. As your child grows, the car seat changes.
Hence, we suggest you do ample research before shortlisting a car seat. Here is an easy guide to help you with the same. Basically there are 3 types of car seats:
Infant car seats
Convertible car seats
Booster car seats
What is an Infant Car Seat?
Infant car seats often double as infant carriers, and provide the convenience of attaching to a stroller. Infant car seats should always be placed in the car facing the rear. Each infant seat has a specified weight range for the baby that should be carefully followed. Preemies may need a special car seat for lower weight babies. Many infant car seats also have position leveling guides to ensure proper installation.
Infant car seats are ideal for babies from the time they are born to about the time till they are around 2 years old. However, some babies may outgrow the infant seat faster than others. Infant car seats are designed to be placed in the rear facing position and can carry an infant of upto 22-35 pounds.
Infant car seats can also be detached and carried around while you shop or step out of the car for other activities. You can also attach it to your stroller without having to disturb or move your baby. Rear facing car seats help in giving vital support to your child's neck. You should also ensure that the crown of your baby's head does not stick up above the top of the seat.
What is a Convertible Car Seat?
A convertible car seat can be used for infants and toddlers, but must be positioned appropriately for the age and weight of the child. Children under 2 years of age should always be rear-facing. Once a child has surpassed the convertible car seat's weight for rear-facing children, the child can be turned front-facing and continue to use the 5-point safety harness. They may continue to use the seat until they reach the seat's weight limit.
Convertible or combination car seats are apt for kids from the time they are born till they are toddlers. These car seats are heavier and bigger than infant car seats. They are designed for both rear facing (from age 0-2 years) and front facing (from age 2 years onwards) positions. In a way, the convertible car seat is worth your investment since you can use it for a longer period of time however, some parents may find it slightly bigger in size and difficult to use for an infant. They also cannot be used as a carrier like in the case of an infant car seat.
There is another variety called as the 3-in-1 car seat which is a combination of convertible car seat and the booster car seat. Some of them are designed for forward facing and rear facing positions. However, there are some models that are only front facing and meant for older toddlers, hence care should be taken before purchasing them.
What is a Booster Car Seat?
A booster seat is a firm cushion of foam or plastic that raises the child higher in the car to improve position and angle of the shoulder belt on school-aged children. There should be slots or hooks for the lap belt to keep it low on the child's hips and thighs. Most boosters include a shoulder belt guide that can be used to pull the shoulder belt slightly lower. It is very important that the seat belt crosses the center of the shoulder and chest and does not cross their neck. Most children need to ride in a booster seat from 4 years old until age 10-12 years old.
Booster car seats are meant for children aged 4 and above. Once your child outgrows the convertible car seat, you need to switch them to booster car seats. They are forward facing car seats and have a minimum weight requirement of 30-40 pounds approximately. You should try out the booster car seats with your child before purchasing them because they come with their own set of harnesses and belts and in order to check for comfort, it is recommended that you do a trial run.
What is the best position for a lap and shoulder belt for older kids and adults?
There is a simple five-step test to decide if your child is ready to graduate from a booster seat.
Does the child sit all the way back against the auto seat?
Do the child's knees bend comfortably at the edge of the auto seat?
Does the belt cross the shoulder below the neck?
Is the lap belt as low as possible, touching the thighs?
Can the child stay seated like this for the whole trip?
If you answered "no" to any of these questions, your child needs a booster seat to make both the shoulder belt and the lap belt fit right for the best protection. Typically when a child is at least 4'9" tall or 80 pounds, it is not necessary for them to ride in a booster seat, and can sit in a regular seat belt. The seat belt should be positioned across the upper thighs, not the belly, and across the middle of the chest and shoulders, not the neck or throat.
What other safety recommendations do you have for traveling with kids?
Keep them in their car seats/seat belts. Pull over at a rest area if a child needs to get out of his or her seat.
Carry a first aid kit, jumper cables, a can of flat tire fix, flares, bottled water, blankets and a working mobile phone if possible, in case you become stranded for an extended period of time and have to wait for help.
Keep kids occupied with travel games, books, conversation and videos so that they do not become fidgety and distract the driver.
Use your headlights any time you travel.
Don't drink alcohol and drive.
Remain alert; it's more often "the other guy" who isn't paying attention, so you need to.
Source: thestarpress.com
Baby Car Seat Brands
To know more about a particular baby car seat, you can read the information pertaining to product features and functions that is usually provided on the packaging of these products.
Various baby car seats have been launched in the market depending on the child's position and size of the seat, which includes group 0, group 0+, group1, group 2 & group 3 (Group 0 being for infants and Group 3 being for grownup kids).
Key vendors in the Baby Car Seat market are Britax Child Safety, Chicco USA, Kiwi Baby Howick, Newell Rubbermaid and RECARO.
Why is Baby car seat important?
Many parents try to cut costs by avoiding to buy a car seat. But do you know that many countries today have made it compulsory for parents to have a car seat while travelling with an infant or a child in the car? The most important reason for you to have a car seat for your baby is because it is the safest option for your baby or toddler while they are in the car. There are also multiple studies that prove this to be true.
Car seats can even protect your child in case of an accident. Keeping the baby safe is always the first priority for a parent. So, why ignore a car seat when it can protect your child during your travels? It is best if you can buy a good car seat before the baby is born. You can ensure the car seat is of good quality and can firmly keep your baby secure and safe in the seat. The car seat helps your baby sleep and snuggle comfortably during the travel.
Car seats come with a harness that keeps the baby safe and secure, protecting them in case of a jerk or a bump. Besides, if you want to go shopping with a sleeping baby, you can comfortably detach it and take your baby out of the car without disturbing him or her.
If you don't have the budget for a good car seat, or you don't travel much in the car, you could always buy a second hand car seat provided it is in a good condition. Buying the right car seat depends on the age and weight of your baby. However, before you buy a car seat, make sure you check it thoroughly.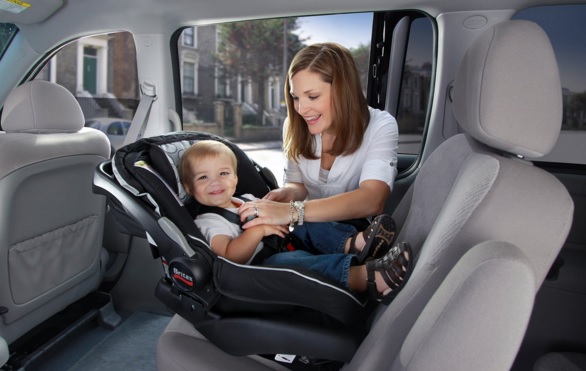 What to look for in a baby/infant car seat?
There are so many decisions to make when it comes to baby products. What to buy and what not to buy? It's always a tug of war for parents who have to choose the best option for their children. Car seats is one such item that needs careful consideration. Most importantly, you have to decide if you need a car seat or not. Many may think not, but the truth is having a car seat for your infant is extremely important.
You want the best for your baby and when it comes to buying a car seat, the same rule applies. But how do you know which one is the best? There are so many brands and features doing the rounds, choosing a good car seat for your child can be a challenge.
So, to help you figure it out, I have come up with some guiding points that can help while you are shopping for a car seat.
Safety: First and the most important factor you need to check before buying a car seat is its safety factor. How safe is the car seat for your baby? Most car seats come with a harness strap. Look for a five-point safety harness which are the best and safest harness straps. But also ensure that the harness straps are not too tight around your child which could make him/her uncomfortable. Read on safety features of car seats and ask questions to the manufacturer in case of any doubts.
Comfort: A car seat should also be comfortable for your baby. It should be well padded and give good support and shield in case of a bumpy ride.
Ease of use: A car seat should be easy to install without you having to haggle with it every time you attach and detach it. Look for a product that can be quickly unhooked from the base. However, the car seat should also be able to firmly latch on to the base and hold it securely in case of a bumpy drive.
Price: Every parent wishes the best car seat for their child but there is something called as the budget which is also very important. However, I would like to assure parents that there are plenty of models in varying budgets with good features. So, you can buy the best and yet, stay within the budget.
Adjustability: You want a car seat that adapts to your growing child. So, look out for harnesses that can be adjusted. Some car seats offer one-hand belt adjustments with quick-release buckles etc.
Warranty: Warranty and after sales support is very important for any product. Always ensure that the product is under warranty. Read the warranty points and do ample research with regards to its customer support. In case you get stuck with the installation or have any doubts with regards to its use, you need a good customer support helpline that can answer your queries immediately.
Other features: Look at what else the car seat offers. No harm in asking and wanting more out of a product, especially if it meant for your baby. Some car seats offer extra features like side-impact protection, extra padding, easy cleaning features etc.
Top 3 brands of car seats
Here are our list of the top 3 brands of car seats. Hopefully, this list will help you choose the best out of the 3 and make your decision a bit easier:
BOB B-Safe Infant Car Seat (Britax B-Safe)
BOB or Britax car seat is a popular car seat available in the market today. The reason being its many features such as the latch system or the conventional seat belt that attaches the base into your car, it also provides great support to very small infants thanks to the infant padding insert. You can also remove the extra body and head padding to give more room to your growing baby. What is even admirable is the two crotch strap positions which is a rarity, multiple shoulder strap positions to fit a growing baby. It has a great plush fabric which is not only comfortable but also easy to clean. And if you look at additional features, it offers a much larger canopy which protects the baby from sun, rain or snow.
Chicco KeyFit 30 infant car seat and base
Another popular brand across America, the Chcco KeyFit also has features similar to the B.O.B. You can attach it into the car using the conventional belt or use the latch system. It comes with the base and some parents have even noted that attaching the Chcco KeyFit to the car is much easier than the B.O.B. car seat. The rest of the features are just like the B.O.B where it offers soft, comfortable padding, ample support for very small infants, it is also light in weight (approximately 15 pounds only), has multiple shoulder strap positions but only one crotch buckle position. Another point of difference between the two is the smaller canopy in Chicco KeyFit but wider shoulder straps unlike in B-safe which are not as wide and are prone to twisting.
Baby trend Flex Lock car seat
This versatile and trendy car seat is a favorite among many parents. Parents find it to be very practical with features such as non-breakable material, great safety ratings, good fabric that is easy to clean and also keeps the baby cool, wonderful handle design that makes it easy for parents to carry it around, easy to attach and install. It also has a 5-point harness for safety along with EPS energy-absorbing foam that protects the baby in case of an impact. Baby trend has all this and more and at the price at which it is being offered, this is a great value for money product.
Shop for car seats on a budget
Everybody has a budget to stick to, even if it comes to buying for your baby. Parents always want to provide the best for their children, however, money does matter and parents are often left with little choice in products.
However, when it comes to car seats, there are many brands and models available ranging from the lowest to the highest cost. You can easily find all the features you are looking for in almost every price range.
You can look online for good deals. Online sites are always coming up with deals and discounts.
Plan in advance for the car seat. You can start looking for a car seat from the beginning of the pregnancy which gives you enough time to scout for attractive offers and deals during holiday or festival season.
You can also consider buying a second hand car seat from friends or family who you know have maintained the car seat well and won't give you a damaged piece.
You can also look at buying combo deals such as a baby travel system, which will include a stroller and a car seat. Combo deals at times turn out to be cheaper than purchasing the same items separately.
Also Read: Benefits of using a baby travel system.
Also Read: