A Convertible Stroller is popular because of the flexibility it offers. You can use it as a single stroller, and when you have a second child you can add another seat and use it as a double stroller. And when when your older kid becomes independent and ready to walk, it can be used as a single stroller again. Most parents feel they are "getting their money's worth" due to the versatility of a convertible stroller (Bassinet, Travel System & Reversible Seat). Skip to the best Convertible Stroller on Amazon
Best Convertible Strollers
Flexibility is the most important benefit of convertible strollers (reversing seat strollers). It changes from single to double, bassinet or travel system. A convertible is a stylish, yet functional buggy that offers you the option of using your car seat or an attractive bassinet right on the chassis. You don't have to place the car seat into the stroller seat (which adds to the bulk). You can later switch to the full-sized seat once your child has grown bigger, or even add an additional seat (becomes a double stroller) in case you decide to have baby #2!
Based on consumer reviews, professional guides, blog reviewers and as well as personal experience, these are the best convertible strollers this year. Choose the price range that fits your budget for the highest rated buggies on the market. If you want to convert to a double stroller, click Single to Double.
Note: Even if you don't want to convert to a double, you need to look at the single to double strollers. They are by far the best single to double stroller brands, which is why they are shown first.
Best Expensive (4Moms Moxi Stroller)
Best Mid-Range (Chicco Urban Stroller)
Best Inexpensive (Baby Trend Sit N Stand Double)
Best Single to Double Convertible Strollers
Baby Jogger City Select LUX
Spacious, comfortable seat with a multi-position recline, various seating configurations.
Compact fold, super-easy push, lots of storage.
Padded 5-point safety harness. Hand-operated parking brake. Canopy with mesh peek-a-boo window.
Its heavy at 30.8 pounds and has a weight limit of 45 pounds per toddler seat.
2017 Britax B-Ready
The 2017 Britax B-Ready is both a single as well as an inline tandem stroller. A smart convertible stroller to buy when you've got just one child and are planning another.
Height adjustable handle bar, and ample storage basket beneath the seat. 14 different seating options for greater flexibility, Rumble seat fully reclines.
Best Lightweight Reversing Seat Strollers
Here we take a look at lightweight convertible (reversing seat) strollers that are full sized and full-featured, but in a smaller footprint.
You also have the option to attach a car seat or bassinet (on the chassis or frame) to convert it into a travel system (perfect for the newborn baby).
Bugaboo Bee5
Adjustable-height handle makes it suitable for most parents. Large storage basket good enough to store a large bag, you can also hang one off the handle. Backrest and sun canopy (no peek-a-boo window) are height adjustable.
Steering is super smooth, independent suspension in each of the foam-filled rubber wheels, brakes can be applied in one step.
The Bee's seat is reversible. You can attach a car seat (Britax, Chicco, Maxi Cosi & Cybex) onto the chassis using the Bugaboo adapter (sold separately). The Bee5 has the option to use a bassinet. When forward facing, stroller child up to 371/2 pounds (not much when compared with other strollers). Seat offers three reclining positions from nearly flat to straight upright.
Pros: Runs smoothly, easy to maneuver, extendable sun canopy, several color choices. See PRICE on Amazon
Here's complete video review of the Bugaboo Bee5.


Best Mid-Range Convertible Strollers
Chicco Urban
Chicco Urban is a full sized, yet lightweight stroller that can hold kids up to 50 pounds. The Urban is designed to accept any Chicco Keyfit car seat. Six seating options, including the seat turned into a bassinet.
High-end look (looks more expensive), Versatile seating options, plus bassinet, Easy to steer and maneuver
Adjustable leg rest, rotating/removable bumper bar, full-coverage sun canopy.
Parents get a removable cup holder, three-position height adjustable telescoping handle bar. One-step petal brake, decent sized storage.
You can customize your stroller with a color pack that comes with a seat pad, canopy liner, bag and weather boot sold separately in different colors.
Chicco Urban video Review.


Convertible Strollers: Guide
Also referred to as a multi-function stroller or reversing seat stroller, this type of buggy has become quite popular over the last few years for several reasons.
It's Bugaboo's fault. After the wild success of Bugaboo's Cameleon other brands quickly caught on. Moms want a stylish, chic-looking pram. No more traditional, frilly, "baby" designs.
Unfortunately, the cost has been prohibitive but now with fierce competition amongst most brands, a wide price range allows you to find a reversing seat stroller that fits your budget.
Parents want flexibility with the seating arrangement and a choice of which carrier to place on the chassis. Car seat? Bassinet? Main seat forward or parent facing? Light in weight? Add a 2nd seat? Yes, yes, yes & yes. All of the above. We parents LOVE these options!
Are you intrigued? It's quite ingenious; read on to find out more… or CLICK HERE to go straight to the best convertible stroller models & reviews!
Popular Because They're Adaptable
Most convertible strollers are basically a stylish chassis (or frame) that comes with a car seat adapter or bassinet accessory. When baby is a newborn, simply attach the car seat or bassinet onto your chassis and you have either a compact travel system or a fashionable pram. A couple of brands you will see here have the seat convert into a bassinet – no need for another purchase, which adds up quickly!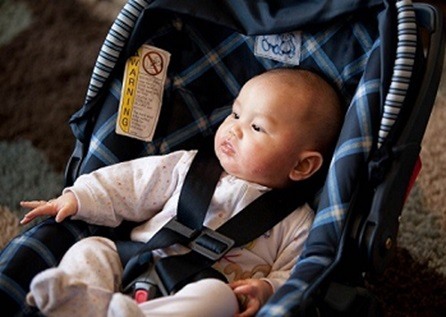 When baby has outgrown the car seat or bassinet, it's time to install the toddler seat that comes with the stroller. Most of these seats are molded, so the entire seat reclines, vs. just the seatback. Then choose whether to face baby toward you or outward at the world. Most new mothers treasure that face-to-face connection when their babies are very little. Wouldn't you?
Switch From Single to Double Stoller
A few reversing seat strollers can convert from a single to a double. This is an amazing feature because it saves you money, no need to buy a second double once baby #2 is born. Lots of families buy the single stroller and simply add the second rumble seat once the new baby arrives. These single-into-double models are also the right solution for twins.
I like all the seating arrangements you can choose from with two particular products. The impressive Baby Jogger City Select offers 16 seating options and the equally phenomenal Britax B-Ready gives you 14 choices. Believe me, this kind of flexibility makes life so much easier when you're out with two children! While having the doubles option is a convenient feature, it can make your stroller a bit heavy, especially with two growing kids and lots of gear. But almost any double, except maybe a double umbrella stroller, is going to be heavy.
Price range
Choose from a variety of sophisticated designs and fashionable colors, but be prepared to spend some money. This is one of the pitfalls of strollers with bassinet option, but you certainly won't have to part with $900-$1200 unless this is what your budget permits.
At the lower end of the price range, reversing seat strollers generally cost over $200. This is for the stroller alone; more expensive products have options included such as a car seat adapter, bassinet, foot muff or extra seat if you get a doubles kit. These items are sometimes sold separately, and sometimes included (like the car seat adapters) but they all add up.
Read more here.