Ice-skating is a popular sport and leisure activity in most countries; its common to find moms indulging in ice-skating while pushing the baby stroller.
If you want to get out of your house and do something fun, do consider stroller skating on the ice. Ice-skating is a fun way to get some workout and also to introduce your little one to ice.
There are some ice skating rinks who allow use of the rink by moms during non-peak hours. You can rent ice skates, secure your baby safely in the stroller, and get on that ice to have some fun, while pushing the stroller around.
And when you're happy kids love it too, because you end up talking more to your little one. And kids love being pushed around on ice, while being seated in the comforts of their stroller.
Is it dangerous?
Not really, if you know how to skate, as the baby is safe in the stroller.
But if you're learning to skate, its better to do it alone before you do it with the baby.
In case you will be stepping foot on ice after a long time, the stroller will help you keep balance while you get back your rhythm. Spend a few minutes (pushing it slowly) and your body will remember what to.
Heidi Klum Ice-Skating With Daughter in Stroller
Watch German model Heidi Klum ice skating with her 2-year-old daughter in baby stroller.
"Schlittschuhlaufen mit Lou," the Project Runway host tweeted, which translates into "Skating with Lou."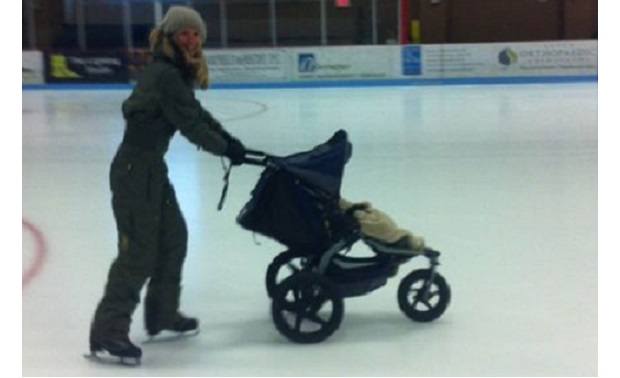 Heidi Klum ice skates with baby stroller
Also read: Skating with stroller: Top things to keep in mind.
Father ice-skates with little toddler in pram/stroller
A woman in Ufa (Russia) filmed the video when she went skating at a rink. She sats, "The baby father was doing it so cleverly, apparently, it's not the first time he's done this. But most importantly, he was very happy."
Checkout this dad who is ice skating while pushing a toddler in a pram.