Best Sit & Stand Strollers buying guide. This type of stroller is specially designed for the parents who have some difference in the ages of their two kids (3-5 years apart). These are great for taking your kids outdoors, with relative ease. A Sit and stand stroller allows you to take two kids along (an older sibling and an infant) – a toddler can stand (and even sit) at the rear (the design is such that as if a stroller bard is attached to the stroller). Skip to the best sit and stand stroller on Amazon.
Best-selling sit-and-stand strollers
Here are the top-rated, best-selling sit-and-stand strollers that have become the preferred choice of transportation for most modern parents.
Graco RoomFor2 Stand and Ride Classic Connect Stroller
Ideal for twins or two young children. It comes with a multi-position front seat and comes with rear bench seat (with standing platform). Dimensions: 34.6 x 20.9 x 40.1 inches.
Buying Links: Buy on Amazon
Baby Trend Sit N Stand Ultra Tandem Stroller
The Ultra Tandem Stroller is another popular stroller that features double riding positions (basically for your kid to stand or sit during the ride). The stroller is also flexible enough to accommodate one or two infant seats (supports most popular car seat brands). What most parents like about this stroller is that the Sit N Stand stroller comes with a large basket for keeping your kid's accessories when outdoors. The stroller folds to a compact size for easy storage.
Key features of this Baby Trend Sit N Stand Ultra Tandem Stroller:
Accommodates up to 2 children (up to 50 pounds each) sitting in stroller seats, up to 2 in infant car seats, or one sitting and one standing
Stroller allows your older child to stand on the rear platform or sit on the rear seat
Accepts up to 2 baby trend, Graco snugride classic fit and britax infant car seats to make a travel system
Stroller accommodates 2 children up to 50 pounds each
Buying Links: Buy on Amazon
Joovy Caboose Ultralight Stroller
The front seat includes three reclining positions, and still allows your older child to stand on the rear platform. Dimensions: 37 x 21.5 x 41.5 inches. Has got a huge canopy, included universal car seat adapter, parent organizer included, compact and space saving design.
Buy on Amazon
Joovy Caboose Stand On Tandem Stroller
Allows an older child to stand on its rear platform, and even rest on the padded rear seat. Its lightweight and has many more features. Dimensions: 41.4 x 21.2 x 36 inches.
Sturdy and safe stand-on platform, included universal car seat adapter, 3-position reclining front seat, compact and easy to fold.
Buy on Amazon
Sit and Stand Stroller: Guide
So what is a sit and stand stroller and how does it differ from other types of baby strollers?
Simply put, a sit-and-stand stroller is an inline-stroller that accommodates two kids. Its more of a tandem double baby stroller and not the typical double stroller where the two kids are placed side-by-side.
A Sit and Stand Stroller is also referred to as 'Sit-n-Stand' Stroller or a Sit and Stand double Stroller (because it accommodates two kids). Its also occasionally referred to as a stroller and a half.
Lightweight sit and stand strollers have a regular seat in the front and has a standing platform on the rear side.
The front seat is for the younger child and the back seat is for an older child to casually ride along (s/he can even stand).
This stroller works great where the elder one is around 3-5 years older than the little one.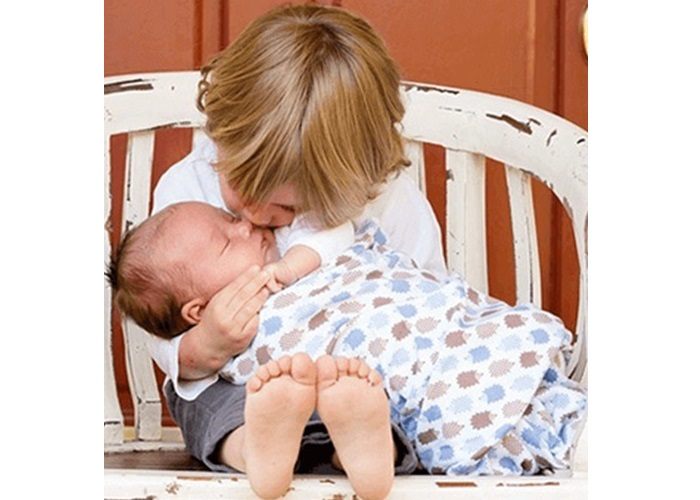 If you don't want the option of adding a ride-on-board to a stroller (and assuming you don't have a stroller at all), the other best option is to get a Sit and stand stroller. These are perfect for families that have two children, separated in age by a few years.

They are more like tandem strollers but have a platform/bench seat behind. So it will have a infant seat in the front (accepts major car seats models), and a platform/bench seat behind for the older child (to either stand or sit).
Why Are These Popular?
Here are some of the reasons why most families opt for Sit n Stand strollers.
Less bulky than Double strollers
Even though these are referred to as sit-n-stand double strollers, these pushchairs are much lighter and narrower compared to the traditional double (side-by-side) strollers.
These also turn out to be cheaper than the double-strollers, and are easier to steer. This is the biggest advantage for parents with two kids (of different ages).
Allows several configurations
The best stand and sit stroller allows you several configurations, offers storage space, and lot more. On this stroller, the younger one can sit or lie down on the stroller (traditional stroller seat, but can also take an infant car seat).
While traditionally we would have bought a double stroller, the reason to get a sit and stand is that they are more versatile.
Is compact & Lightweight
While the older child might already walk quite well and want to be independent most of the time, s/he might not yet be able or willing to walk for longer walks without needing a break (that's where the rear bench/seat helps).
Most parents prefer to use the st-n-stand stroller while going for shopping or for a walk (those who have 2 kids).
Despite being a double stroller, a sit-and-stroller is compact and lightweight, much more manageable than a side-by-side stroller.
More Features
Here are some more features that are found on sit-and-stand strollers:
Older child can stand on the rear platform or sit on the bench. Older kids love to stand behind, and enjoy their new found independence.
It allows you to keep an eye on both your kids (better than letting your elder one walk, especially in crowded places).
Like most double strollers, the storage basket under the sit and stands are also large and spacious.
A child can also sit in the front seat without an infant carrier.
Removable child tray with a cup-holder. Canopy for extra protection
Light and sturdy steel frame. Folds compact for storage or travel
These also come with straps, for the child standing behind, to help him/her stay put.
Infant car-seat adapter. Foot-activated rear brake. 5-point child restraint safety system

Watch: Sit and stand strollers in action


Pros and Cons of a Sit and Stand Stroller?
Pros
Best suited for families where there's some age gap between the children.
Most models are lightweight and compact. They even fold for easy storage.
Come with storage basket (usually at the bottom of the stroller)
Certain times (when the infant is in the rear seat), the elder one can choose whether to sit in the front or back
In general, kids like these strollers as they can sit, stand and ride on these strollers
Without the second seat, you will not realize that you are actually pushing a double stroller.
Its flexible since it changes to accommodate your growing children in every stage until they are fully grown children
A big advantage of the Sit and Stand over the regular double strollers is that they are not as bulky or huge, their are smaller and lighter design makes them popular among parents.
Reviews of the top Sit-n-Stand strollers
Cons
Not an all-terrain stroller: Most models are suited for every day activities (not designed for rough terrain) due to their lightweight design and small wheels. It works well though for everyday activities including running errands around the town and walking on concrete sidewalks or shopping centers. But it's not designed to handle rough terrains (grass, gravel) especially when both the kids are on the stroller.

Note: Because these are inexpensive, many parents buy both, an all-terrain stroller and a sit n stand stroller.

Less spacious for the child seated behind: When using an infant car seat in the front, there's not much space left behind for the older kid to be seated comfortably (standing is okay).
Usually no sun protection for the rear rider: There's a sun canopy for the front rider, but typically there is no sun protection for the standing child.
If your kids are more or less of the same age, its better to buy a double stroller than sit and stand stroller.
Sit and Stand Triple Stroller
And what is a triple sit-n-stand stroller? Its basically a tandem stroller (seats one behind another) and then there is a platform to stand (and sit).
This type of stroller accommodates three kids in all. And that's why the name triple sit and stand stroller.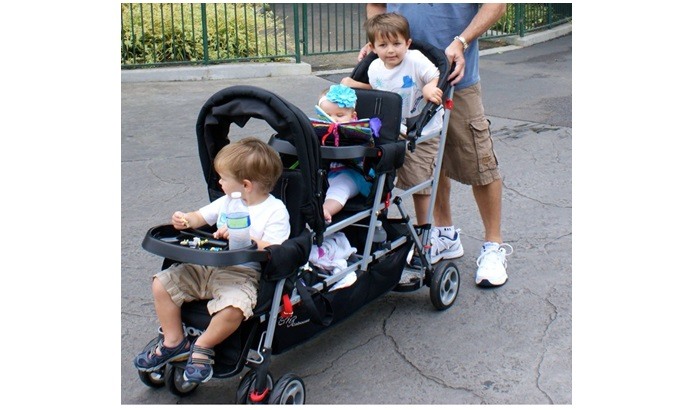 Sit N Stand Stroller – Car Seat / Compatibility
The best part about a good sit and stroller is that the car seat snaps into either the front or back seat position, and gives you all kinds of seating options/arrangement.
Although, most lightweight sit and stands strollers have a regular seat, they can be adapted to hold two infant car seats.
Usually, a particular brand of sit n stand stroller will accept all infant car seats from the same brand. So for example, a Baby Trend sit n stand tandem stroller will accept all Baby Trend infant car seats. Same goes for Graco, Joovy and other brands.
The better strollers come with a universal car seat attachment/adapter (with strap) that allows it to accept most major car seats. When you hear someone referring to a universal sit and stand stroller, it means its compatible with most car seats.
To find out what car seats are compatible with your sit and stand stroller, just make a note of your double stroller model, visit the brands' official website and it will tell you what car-seats are compatible with your brand of sit n stand stroller.
The child tray located at the front of the stroller usually acts as a car seat adapter and accepts popular infant car seats, including: Baby Trend, Graco (Snugride, Safe Seat), Evenflo (Embrace, Discovery), Britax (Companion, Chaperone), Safety 1st, and so on.
However, some car seats (such as the Chicco 360) may only fit on the rear and reclines your baby too far back, leaving little room for your older child to stand, which defeats the purpose of a stand and sit stroller.
Another point: Some brands of infant car seats may not easily fit underneath the front shade canopy. In that case, you will have to remove the canopy (provides extra room) in order to fit the seat. However, most infant car seats come with their own canopy, so removing the front canopy of your sit-n-stand should not be an issue.
Best Stand-n-Sit Stroller
The best sit and stand strollers are sturdy, lightweight, easy to handle, but tends to be pricey. Avoid going in for the cheapest ones, as most of the features on such strollers tend to become unusable.
Here's what a great stand-on stroller looks like:
It should maneuver well
It should be compatible with most infant car seats
It should have a strap to secure the child in the rear.
Some double stroller models may not have anything to secure the child in the rear (who's free to sit/stand). So just be aware of that. Ideally you should buy something that has a strap so that the bigger kid won't fall of. Without the strap, your kid could accidentally bump his/her mouth on the handles or fall off because there is nothing securing him/her in.
Extra features (such as tray) and under-the-seat storage basket
If you think your older child will prefer being seated, especially when you're out for longer trips, then you may have to consider a standard tandem stroller, because with the infant seat installed in the front, the elder one may not get lot of space to sit on a sit-n-stand double stroller.
Things to Look For in a Sit and Stand Stroller
There is a wide range of sit-n-stand stroller models available in the market. With the earlier models, most parents disliked the fact that the storage area was under the seat, making it practically inaccessible. Most earlier models were also heavy duty.
However, contemporary sit-and-stand strollers have solved all those issues, besides providing a much better suspension and a smoother ride.
Here are some of the things to keep in mind when buying a Sit and Stand Stroller.
Compact: even though it carries two kids, you want the overall thing to be lightweight and easy to steer. It should not be too wide, should be easy to move it in crowded places.
Easy to Maneuver: Maneuverability is an important consideration. Choose a stroller fitted with rubber tires or ball bearing wheels (makes it easy to move the stroller around).
Compartments
Make sure it has compartments to hold useful accessories that you will need to bring along. You will need space to carry things like diaper bags, towels, extra bottles, and other baby supplies, or keep your personal things like cell phone, keys, and other things.
Is It Easy to Store?: Choose one that is easy to store. It should fold easily (better if you can do that with one hand.)
Safety: Go for models with adequate safety features like front lock wheels, rear brakes, padded seats
Convenient: Strollers come with several convenient features. You may want a detachable, extra large canopy.
Then there are other factors like price (depends on the features and the build quality) and warranty (however long warranty period does not necessarily mean a better product).
Watch: Baby Trend Sit N' Stand Double Stroller in action


Buying Options: Best Sit N Stand Stroller Reviews
With these strollers, the toddler can hop on and off for a break; he/she can either stand on the board or even sit when tired, whereas the little one can rest on the seat.
Joovy Caboose Ultralight Stroller: The Caboose Ultralight is a popular sit-and-stroller, its a tandem double stroller with several nice features.
Joovy Caboose Stand On Tandem Stroller: This tandem sit-and-stand stroller is easy to maneuver and navigate, and comes with useful features.
Baby Trend Sit N Stand Ultra Tandem Stroller: Another popular stroller; its inexpensive and functional sit-and-ride stroller
Graco Room-for-2 Classic Connect Stand and Ride Stroller: Ideal for carrying multiple kids. Fits all Graco seats
Other alternatives
If you have kids who're more or less of the same age, then it probably makes sense to go in for the typical double/twin stroller.
If you want a stroller for rough terrain or for jogging, do consider a jogging stroller
If you already own a stroller, you may consider getting a stroller board / ride-on board to accommodate the elder child.
Used Sit and Stand Stroller
Don't want to buy a brand new one? You can find used Sit and Stand stroller for cheap on sites like eBay and Craigslist. If you're lucky, you may find gently used sit-n-stand double strollers in great condition on these sites.
Sit and Stand Stroller Replacement Parts
Like every stroller, even Sit-n-Stand strollers go through wear and tear, and will require some parts to be replaced. The good thing is that sit and stand stroller parts (wheels, seats, etc) are easily available.
If you go through the user manual / instruction booklet, you will find information on how to order replacement parts (some brands provide a "parts hotline #" on the instruction booklet.
How to Convert Sit and Stand Stroller
Most parents prefer to buy a double stroller that will convert to a sit and stand stroller as its much easier to steer. Most sit n stand strollers can have infant car-seat in the front and the rear. And when you don't require it, its easy to remove one of the car seats, which makes the stroller much lighter.
Using an infant car seat with the stroller is also easy.
How to Fold Sit and Stand stroller
Folding and unfolding a Sit and Stand stroller is also easy.
Remove/close the canopy, squeeze the handle and push forward, and the stroller will start to fold. Latch the fold latch.
Unlatch the folding latch to unfold the stroller. Lift up the stroller handle until the stroller is in a locked, open position.
Sit and Stand Stroller: Weight Limits
Every sit and stand stroller has its own weight limits and dimensions. Most of them average between 40 – 50lbs per seat, but you can refer to your strollers user manual or description to know the exact weight limits.
Sit and Stand Stroller Instructions
Using the stroller correctly is important in order to prevent injuries to your children. That is why you need to check the instructions on how to use the sit-and-stand stroller correctly.
Though the stroller comes with several features, you should at least read the instructions on how to fold and unfold the stroller, and how to use an infant car seat with the stroller.
Sit and Stand Stroller User Manuals
When you buy a stroller, you get the manuals and instructions along. If you do not have the instructions (user manuals) for your sit-n-stand stroller, you can search for it online and download a printable format of the most recent instructions.
User manuals are also available on the manufacturer's website; you may even go through YouTube instructional videos if you need more assistance.
Buying Sit and Stand Strollers: Top Online Merchants
You can buy Sit and Stand Strollers from several online merchants. Here are the more popular ones.