Useful Baby Stroller Accessories: Simple, practical baby stroller accessories that makes life easier when you're out with your little one – while traveling or running errands.
Stroller Accessories: Categories
Stroller Accessories: Brands
Popular Stroller Accessories
Here are some best-selling baby stroller accessories.
Baby Stroller Accessories: Buying Guide
I'm sure, you would want to keep your little baby happily occupied, as well as make yourself comfortable, when you are outdoors with your baby in the stroller. And the best way to do that is by using some good quality stroller accessories for your baby's pram. You can choose from a wide range of Stroller accessories to help you get the best out of your baby carriage.
Got a great deal on a stroller that also offered a couple of accessories (stroller bag, hooks, etc.), but later felt that those accessories were not up to the mark? Or bought the seeming perfect stroller, which lacked a few accessories.
No problem, you can buy those stroller accessories separately. And you must get those replaced if they're compromising your baby's safety in any way.
There's no doubt that strollers are a great help when you are out for shopping, or in general outdoors with your little one. But if you lots of bags to carry and if you also consider some of the essential items that you need to carry for your baby (bottles, toys, napkins, spare clothes, etc.), you'll realize that it can get tricky to manage all these things together. At other times, you may just want to shield your baby from the elements.
This is where stroller accessories are so useful. Most prams are built to the bare minimum and need to dress it up using accessories. The more expensive strollers do come with most of these though.
If you get a great deal on a stroller, but feel that the stroller accessories are not up to the mark, go for it (if the deal is really attractive), you can buy the accessories separately
If you find the perfect baby stroller for your needs, but is missing few important stroller accessories, go for it. You can always buy stroller accessories separately.
Buggies are available in various shapes, sizes, and colors, and in case you find a stroller that you absolutely love but it doesn't come with certain features, there's no need to reject it. If its only missing things such as a cup holder or rain cover, then you can definitely buy them separately. You do get universal stroller accessories as well that work with most brands/make of strollers.
Top 5 Reasons Why You Need to Use Stroller Accessories
Although most new baby strollers come with great features; you still need stroller accessories to make your (as well as your little one's) outdoor experience better and comfortable.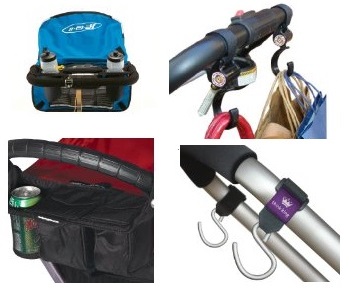 Here are top reasons why you should consider buying stroller accessories.
Convenience
This is one of the most important reasons that parents and caretakers buy stroller accessories. For example, the stroller bag/case is an accessory that makes it so convenient to carry your stroller around, when you're out of town or on a vacation.
Safety
While earlier stroller accessories were certainly good, we have seen a huge improvement in harnesses, some offering as many as five different connections that provide the the ultimate in safety for your little one. Similarly, you get stroller locks to make sure nobody takes away your stroller, in case you have to move away from it for a while, for whatever reason.
Comfort
You get accessories such as a completely reclining seat, or a softer and more comfortable material for the baby to sit on, you also get canopies that provide better protection from the elements.
Beauty
You get stroller accessories such as liners that not only provide comfort but also look fashionable, enhancing the overall beauty of the stroller.
Cost
You can always buy a basic stroller and then add on stroller accessories as and when required. This way you don't have to buy an expensive stroller/pram right at the beginning. Just go for something that serves the purpose to begin with, and you can always pickup relevant stroller accessories when required. this turns out to be a more cost-effective option.
Hood / Rain Cover
This is known by various names – hood, rain cover, weather shields being some of the more often used terms. But the intention is the same, and that is to protect your baby from external factors such as harsh weather, rain or even insects, when travelling in the baby stroller.
Best Canopies & Replacement Hoods
Stroller Organizer / Shopping Basket / Shopping Tray
When you are going out with your baby, there are some other things as well that you need to carry, such as the feeding bag, bottles, diapers, etc. These are accessories that come with several place holders so that you can easily carry and access those baby stuff. You can have everything at your fingertips now. You can even store your phone, money, keys, or even small distracting toys for your toddler throwing a tantrum.
Best baby stroller organizers
Cup holders
You can easily keep a baby's bottle using these Cup holders. Now you don't have to open a bag to retrieve that bottle in case your little one is hungry. There are many more accessories such as changing bag, mattress, framers, stroller board, etc., that you may consider, depending on your needs and requirements.
Stroller Cup Holders
Bassinets, Carrycots & Bunting Bags
These are small bags that are meant for infants, and are suitable for children from birth up to say about 20 pounds. These can easily be strapped to a stroller.
Mobile / Phone holder
Most of the time a distraction can really calm down your kid, who is on a tantrum spree. Show him his/her favorite video on your phone. You can even access other apps such as the GPS or local map, and keeping your hands free for other important things.
Stroller Boards
Taking your toddler on a Stroller board ride is the perfect solution for your child, who no longer enjoys being seated all the time. Kids love to ride on the stroller board as they get the feeling that they are riding a bike.
That's not at all! You can also buy stroller hooks, locks, strap Covers, baby head supports, changing kits, stroller umbrellas, travel carry bags, stroller mirrors, adjustable stroller handles, attachable stroller toys, and more.
Universal Stroller Accessories
When looking for one, preferably choose something that is universal, something that works with most brands of strollers. This way you don't have to worry about matching the specs to your existing stroller. The Universal Stroller Accessories can also be used when you upgrade to another stroller.
Note: While universal pram accessories work with most strollers, it may not fit some of the older stroller or pram designs, so do read the specifications of the stroller accessory.
Checkout these popular universal stroller accessories such as summer footmuffs, winter footmuffs, lambskin footmuffs, parasols, sun shades, sun covers, buggy boards, cup holders and more.
Another reason to consider Universal accessories for prams is when your stroller manufacturer does not offer matching accessories, or when the brand no longer produces the accessories it used to produce at some time. This is when you should consider buying a universal stroller accessory because these work with most brands of prams.
Top Online Merchants to Buy Stroller Accessories
Here are the top online merchants where you can buy stroller accessories:
Final Thoughts
So while several strollers give you added bonus features as well as bundled accessories, you really need to find out about the quality of those accessories. That is why its important you don't buy a stroller solely because of the several bonus features that it offers. At the same time, just because the stroller is lacking certain features shouldn't be the reason for rejecting it either as you can always buy the related stroller accessory. So if you have found the perfect baby stroller but if it doesn't come with a cup holder, you can always buy a universal cup holder separately.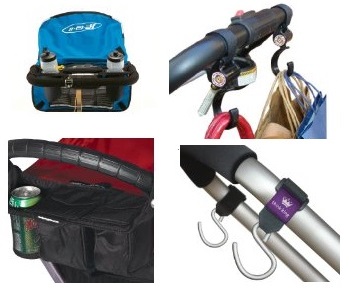 See Also