Stroller Buggy Pushchair Replacement Handle Grips: Over time, the handle bar of most strollers wear out. The foam handles start looking dirty and tatty, ripping out from various sides. And though your stroller might look in the most perfect condition, the grips don't complement the body of the stroller, and that's when its time to get new handlebar grips for your stroller. These also provide protection so that the bar handle won't wear off and deteriorate prematurely. Some of these can also be removed and washed. Skip to the best stroller bar grip handle cover on Amazon.
Recommended / Best Stroller Bar Grips
Stroller Bar Grips & covers are available so that you (and your child standing on the stroller board) can get a firm grip on the handle/bar when on the move.
Not only are these super cute, but they prevent you from getting blisters when pushing for long periods of time. The best thing is that these are machine washable (in a pillowcase) and easy to use.
Here are some of the bestselling stroller handlebar grips that keep your hands clean and comfortable during long walks and also add a subtle personal touch making your stroller stand out from the rest.
Emmzoe Stroller Handle Covers (stretchable) for Umbrella Strollers
Protect stroller handle grips from dirt, germs, and wear.
– Stretchable for a Universal Fit.
– Hand washable and air dry.
Specification:
– Size: 20cm x 5.5cm
– Material: 80% Nylon, 20% Spandex
– Package contains 2 Emmzoe Stroller Handle Covers
Choopie CityGrips Single Bar Grip Handle Covers for Stroller/Pram/Buggy
These stylish looking grip covers are comfortable and slip onto any stroller's handlebars in seconds, extremely useful in preventing everyday wear and tear. These are also easy-to wash.
Choopie Stroller Grip Covers, Double Bar
Perfect for your stroller's handle bars, and you can choose from several designs. "Installation" is a breeze. They look great, and are also easy to clean. Provides you with a cleaner, more germ-free stroller. Their standard-size CityGrips are 5″ each. For even more protection, you may choose the new 9″ Large CityGrips.
Maclaren Techno XT and XLR Replacement handlebar grips
A replacement handlebar grip for your stroller, pushchair, buggy, or pram! If the foam handles of your stroller are starting to look tatty, ripping at the sides or are just worn out, then you will need this stroller handle cover. These replacement stroller and pushchair grips are made from NPVC foam rubber, which is the best quality foam for pushchair grips. It is durable as well as comfortable, and easy to replace. You can choose from three different sizes to fit your stroller perfectly.
BOB REVOLUTION JOGGING STROLLER GRIPS
TO FIT: BOB REVOLUTION PRO & FLEX. Here's the step by step instructional video. This replacement grip works with the Bob Revolution Pro, the Bob Revolution Flex, the Bob Revolution Pro & Flex Duallies.
Watch: Bob Revolution replacement handlebar grip installation


Why You Need Stroller Grips?
The grips that come with the stroller may not be of the best quality, in terms of comfort that it offers to your hands. The rubber can be rough which can cause blisters on the hands with frequent use.
More than that, it gets dirty over time, and its not very easy to wash them. The idea of touching the handles on your stroller over and over with countless amounts of dirt, grime, grease germs and never being able to wash them down effectively, is not appealing to many.
That's where these replacement grips for strollers come in handy.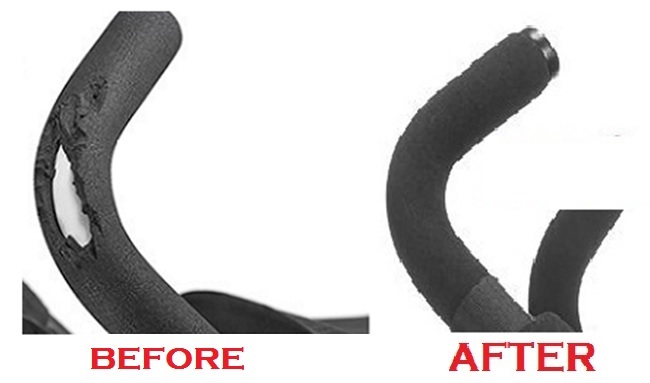 Stroller handlebar grip covers that we looked at:
Emmzoe Stroller Handle Covers (stretchable) for Umbrella Strollers
Choopie CityGrips Single Bar Grip Handle Covers (Various colors) for Stroller/Pram/Buggy
Choopie Stroller Grip Covers, Black, Double Bar
How to know what size you need?
Here are some ways you can measure the size of the stroller handle grip (to order a replacement).
Measure the diameter of the handlebar.
Measure circumference of handlebar with tape measure.
Measure circumference with strip of paper

Maclaren stroller replacement foam handle grips