Best stroller boards reviewed here, for your baby stroller. There are some universal ride-on-boards that attach to most brand of strollers, however some are designed to be used only with specific brands. These stroller accessories allow an additional child to ride on the stroller. More importantly, your toddler stays near you, which is very important in crowded areas. The better ones are sturdy, easy to attach and and some come with a seat too. When users buy our independently chosen editorial picks, we may earn commissions to support our work. You may skip to the best stroller board on Amazon.
Best Stroller Board Reviews
Top/Recommended
Model
Price
Pros & Cons
Summary

Englacha 2-in-1 Junior X Rider
$$
Pros: Universal, Comes with a seat
Cons: NOT very quick in attaching/detaching
Currently, a best-selling product that attaches to most strollers. Added benefit is that it comes with a seat, so your little one can also sit when tired. Turn your carriage or stroller into a double and give your toddler an imaginative and fun ride. Unique connector fits most prams and strollers including umbrella style and concealed brake style prams.
Available in two variants: 2-wheels and 4-wheels

Baby Jogger Glider Board
$
Pros: Sturdy, Easy to Attach, Adjustable
Cons: Works only with select Baby Jogger strollers
Can be used with single or double Baby Jogger model, stows against stroller frame when not in use.

Lascal Buggy Board Maxi
$
Pros: Universal (Extra extenders included to make a large range of fit), Affordable
Cons: Doesn't stay on when folding stroller
The Lascal Buggy Board Maxi is a universal stroller board that works with most brands of strollers. It has got a wide base and its reasonably priced compared to other stroller brands.

Lascal Buggy Board Mini
$
Pros: Universal, Affordable
Cons: Smaller compared to Maxi
Compact in size compared to the Maxi, but its universal (thanks to the Lascal Universal Connectors). Its perfect for most compact and umbrella strollers on the market.

Bugaboo (2017) Comfort Wheel Board
$$
Pros: Sturdy. Comes with Seat
Cons: Works only with bugaboo strollers
A nice, sturdy stroller board that comes with a seat as well, works with Bugaboo strollers.
More Stroller Board Reviews
My Child On Board Pushchair Board
The My Child On Board pushchair rolling board includes universal multi-fit adapter and is an easy solution that allows an extra child on your stroller; it allows a toddler to stand and have rest.
The universal adaptors allows the ride-on board to be compatible with a wide variety of frames. Its also cheaper than most buggy boards.
Key features of My Child On Board Pushchair Board:
Its universal (includes universal adapter) and suitable for most strollers with suspension for extra comfort
The rolling stroller board comes with 3 way settings with a 2-wheel suspension to spread the load and for extra comfort while taking the ride
Simple clip allows it to be removed quickly and can easily be folded away when not in use.
The stroller board has a skate design
Max child weight: 20kg (If child weighs close to the board's maximum, handling of the pushchair becomes a bit difficult)
Dimensions: H42 x L40 x W40 cm Weight: 1.55kg
The My Child on-board pushchair board is a practical and inexpensive solution to accommodate a small child and a baby on your stroller. The board provides a stand for your toddler to have a rest when s/he is tired of walking.
Buying Guide: Stroller Boards / Kiddy Ride-on Boards
About Stroller/Buggy Ride on Boards
Almost every brand of strollers now make stroller boards (standing platform) to accommodate another child, although not all of them are universal in nature (they are designed to work with their own line of strollers).
But the good things is that stroller makers now think that this is indeed a cost-effective option, and should be offered to the users, besides the tandem / double strollers.
And what if your brand of stroller doesn't make a stroller ride-on board?
In that case you can opt for one of the universal stroller boards. These are designed in such a manner that they attach to a wide range of models and makes.
Stroller Board with Seat
Want to make it even more comfortable for your kids? Opt for a buggy board with a seat attached.
Also Read: Stroller Boards with Seats
---
While these stroller boards attach nicely to the stroller, some parents (especially those who are very tall) find it difficult to walk when the stroller is attached to the stroller. In that case, you may opt for stroller accessories like stroller handle extensions, which increases the length of the handle bar thus giving you enough space to walk comfortable.
In case you already have two single strollers, all you need to do is to buy a stroller connector that attaches the two stroller together sideways. This way you don't even need a buggy board, you can continue using the two strollers together to move around both your kids.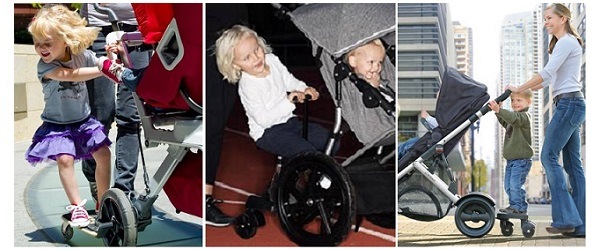 Stroller Board Adapters
These are connectors that allow your buggy board to work with a wide range of strollers/buggies.
Sit and Stand Strollers
While buying a stroller board is a cost-effective option to transport another child, you also have the option of buying a sit and stand stroller, assuming you were planning to get rid of your existing stroller.
In that case, you could also consider buying a sit and stand stroller where the older sibling gets to stand or sit towards the rear of the stroller.
Buggy Board for Sale
Buggy board for sale, available from various merchants. Find a buggy board (lascal and other brands) here, the number one site for buggy boards.
A buggy board is easy to assemble and attach to the pram. It also easily detaches out of way when not required. This is one of the best purchases you would ever do for your kids – they love standing on it when outdoors.
You can find Buggy board for sale on popular online merchants like Amazon, Walmart, Target. Some of these are also available with a seat. You could even buy the seat (saddle) separately.
These baby products are definitely worth the money. You will have to get used to it, once attached to the pushchair, while pushing it around. But you will definitely be happy with your purchase eventually.
Have a Buggy Board (new or secondhand) that you want to put up for sale, let us know here in the comments.
Top Resources
Some of these are online merchants where you can buy a buggy/stroller ride-on board for your stroller/pram. You can expect to find the best deals/prices on these attachment platforms.
Buggy / Stroller Board Articles
Standing stroller boards are stroller attachments that allows a child to stand on the board. You have lots of choices in this category/type.
Back to home page from stroller board reviews