Carrying children in your arms all the time is just not practical. While some men may be able to do it, its quite exhausting and troublesome for most women. That is why parents look for simple alternatives which reduces the burden on them and is also safe for the kids. Basic strollers (single) are well known to everyone. But, if you want to transport their are a few options, depending on the ages of the kids.
For parents of 2 kids having an age gap of 3-4 years (one being a baby and other being a toddler), a sit and stand stroller is a much practical option.
On a Sit and Stand Stroller, the front part (sitting portion) is for the baby and the back portion, with a small standing platform and jump seat, is for the toddler. These are narrow (same width as a single stroller) and reasonably lightweight. The jump seat at the back can also be used to seat the toddler if s/he is tired.
Sit and Stand Strollers
Top Stroller Boards / Ride-on Boards / Kiddie Boards / Buggy Boards

Best-Selling Strollers
Picture
Model
Type
Price
Pros & Cons
Features
Summer Infant 3Dlite Convenience Stroller
Standard
$
Pros: Value, Lightweight, Sturdy, Comfortable

Cons: Few accessories
Weighs only 13 pounds, large seat area, 4 position recline, 5 point safety harness. Canopy with flip out sun visor. Storage basket and rear storage pocket.
Pockit Lightweight Stroller
Standard
$$
Pros: Compact folding stroller. Good features

Cons: Small canopy, Pricey
Folding design (can literally fit in a grocery bag), adjustable harness system, overhead canopy.
Slightly uncomfortable for tall parents (6'-3").
Joovy Caboose Ultralight Stand-On Tandem Stroller
Tandem (Double)
$$
Pros: Lightweight, compact, maneuverable

Cons: Need to remove the sunshade when folded
5 & 3 Point (Front & Rear) safety harness. 3 Position seat recline. Canopy with visor extension, Parent organizer included. Child tray with 2 cup holders, universal car seat adapter included.
Britax 2017 B-Agile Stroller
Standard
$$
Pros: One-hand fold design, Lightweight, Click & Go System. Large Canopy

Cons: No footrest. Brake is now two step lock (earlier it was one press). Buckles are now two separate units (earlier it was one piece)
3-wheel configuration with swivel front wheels. Large under-seat storage and additional zippered pocket.
Thule 'Chariot Cross' Stroller/Trailer
Stroller/Trailer
$$$
Pros: Compact, Rugged, Several Configurations, storage and extra cargo space

Cons: Expensive, Heavy
Designed for four activities: biking, jogging, strolling and skiing (Includes bicycle trailer kit and strolling kit)
BOB Revolution Flex Stroller
Jogger
$$$
Pros: Smooth ride, Front Wheel Pivots, Lightweight

Cons: No accessories. Price
If you are looking for a smooth ride, easy-to-fold frame and suspension system, something that is suitable for everyday activities, this stroller with a lightweight frame and pivoting front wheel seems ideal. It comes packed with features like a reclining seat and adjustable, multi-position canopy.
Baby Trend Expedition Jogger Stroller
Jogger
$$
Pros: Smooth ride. Large storage basket

Cons: Heavy
Accepts any Baby Trend Flex-Loc or Inertia Infant Car Seats. Large bicycle tires roll effortlessly over all surfaces. Convenient Parent Tray with 2 Cup holders. Child tray with two cup holders. Front Swivel Wheel. Multi-position, reclining, padded seat.
Graco DuoGlider Click Connect Stroller
Tandem (Double)
$
Pros: Narrow. Cheap. Large storage basket

Cons: Large in size (but then its a tandem/double stroller)
Stadium-style seating, both seats are reclining, rotating canopy, footrest. Extra large storage basket, and parent's tray.
Graco Fastaction Fold Jogger Click Connect Baby Travel System
Travel System
$$
Pros: One-hand fold. Smooth Ride. Large Storage Basket

Cons: Heavy
Multi-position reclining seat. extra-large canopy. Large Storage Basket and Trays for Convenience. Includes Graco Snug Ride Click Connect 35 infant car seat
Report a Review!
Don't See a Certain Product on Our Site? Suggest a product through our contact form
Browsing through our reviews and find something that shouldn't be there, or isn't a quality review? Please let us know through our contact form and tell us which product the review is on. Thank you!
Stroller Boards
These are also known as Universal Stroller Board or Buggy Board or Stroller Ride On Board. These easily attach to the upright tubing or frame of the pram, to accommodate one more child on the buggy. Its cheaper, and is considerably easy to assemble and attach to a stroller.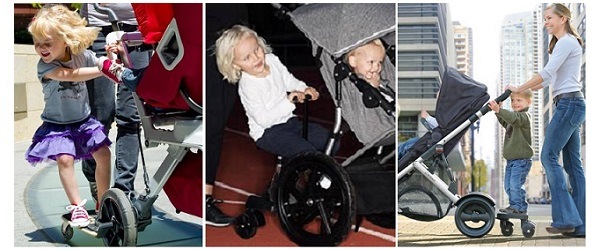 There is no doubt that baby strollers are one of the important baby products out there, that makes your life much more convenient once you have a baby. However, when you have a couple of kids, you have to figure out what is the best way to go out for walks, with two instead of one child.
If one of the siblings is old enough to walk for some time, preferably in the 3 to 5 or 6 years age group, then a buggy/stroller board may be the accessory you need for your stroller. With a stroller board attached, the stroller is easier to move around (compared to a double stroller) and you can easily take it though narrow lanes when outdoors and through narrow doors, when in a mall.
Everyone will have their own take on what the best stroller board should be like, so I thought of creating this ultimate resource that provides detailed reviews and does an objective analysis of all the top stroller boards in the market.
What is a Buggy Board?
Buggy boards are popular stroller accessories, suitable for families with more than one child, and who already own a stroller.
These easily attach to the upright tubing or frame of the pram, to accommodate one more child on the buggy. It doesn't cost much, and is considerably easy to assemble and attach to a stroller.
These are also known as Universal Stroller Board or Buggy Board or Stroller Ride On Board.
Why Use Them?
If you have two children, it's a good alternative to investing in a double stroller, if one of the children is a little grownup.
They can easily be added or removed at any time.
Offers a good view to the child who's standing on it.
You have several choices of Stroller Board Attachments.
Who is it Suitable For?
Here are some situations where this stroller accessory comes in handy.
You already own a stroller and have more than one child
One of the siblings is old enough (grownup for strollers) but still need supervision
Suitable for children who are too young to walk long distances
Suitable for children who are grown up and can hold the tubing.
Mostly suitable for children in the age group 2 to 5 or 6 years, weight of 20 to 30 kg.
The Design has a base on which children can stand and comes with 2 to 4 wheels underneath.
So using this this accessory you don't have to carry any of your child, while you push the stroller.
How to Find a Buggy Board That Meets Your Needs
Here are some of the factors that you need to consider before buying a stroller board.
It needs to properly fit your baby stroller so check the dimensions
Four wheel boards are usually easier to manoeuver, and also offer great balance.
If you are good at carpentry work and using tools, you can even make one yourself.
Features
Most buggyboards usually have a universal fit making it suitable for almost all buggies and prams. So look for something that can fit most popular models of prams, strollers, travel systems, single or double pushchair.
You want something that is comfortable, safe, fun & speedy, besides easily connected to your stroller or pram for the perfect stress-free outings.
You want an accessory that provides security for your child in crowds and high traffic areas. When your child is too tired to walk, or when you are in a hurry, these make it easy for both of you.
The better ones are designed to easily attach to the upright tubing of a stroller or to the frame of a pram. The connectors are made to fit square, oval or round tubings.
Anti-slip surface
This surface reduces the risk of the child accidentally slipping off the board, making it safe and comfortable to stand on.
Width Adjusting
Some boards come with a width adjusting system that makes it possible for it to attach to small as well as wide prams and pushchairs.
Large ground clearance
This makes it more convenient for the parent to walk, so that their legs can easily go under the board.
Suspension System
Better suspension on each wheel provides a smooth and pleasant ride, for the child.
Board Levelling System
Some boards come with a levelling system that allows you to choose the position for the connectors on your pushchair or pram. You just adjust the height of the arms to the connectors height.
Strap connector
The strap connector allows you to attach the connectors to almost any size of chassis tubing.
Lift-n-Store System
It is best to put the board in a resting position when not in use (temporarily). Look for such a mechanism, most boards have straps that is easily adjusted to work with your pushchair or pram.
Watch this video to get an idea of how this stroller accessory can really help you:
Welcome to the Baby Stroller Store
This is the place to checkout the best baby strollers & accessories, reviews, tips, & videos!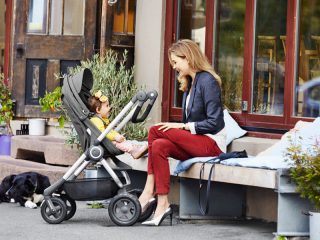 Today, there are several types and style of baby strollers. Here, we have meticulously selected the very best strollers for you to check out. You can choose from a wide array of different strollers – from premium strollers, to the more basic models, by browsing through the assortment of prams, travel strollers, multiple strollers, and jogging strollers for parents on the go.
You will also find several informative articles, helpful reviews & videos that will help you choose the best strollers you can buy, from what's available in the market. We also feature several baby stroller accessories and parts as well.
Best Baby Strollers: Guide
It can be a challenge to find the right stroller for your child because of the several brands and models that are competing with each other out there. Our site makes it easier for you to find an excellent stroller with all the features you want.
As far as possible, avoid picking up the cheapest stroller, a cheap one may not last long and and cause lots of problems. Your child will be in the stroller for several years so it makes sense to get a sturdy and reliable stroller. Also, choose a stroller that is lightweight and easy to maneuver.
If you're more active, a jogging style stroller is ideal as its ruggedly built, has better suspension and suited for longer walks. Also, make sure your stroller has a good padded seat, a sunshade/canopy and a big storage basket for all the gear you carry around with your child.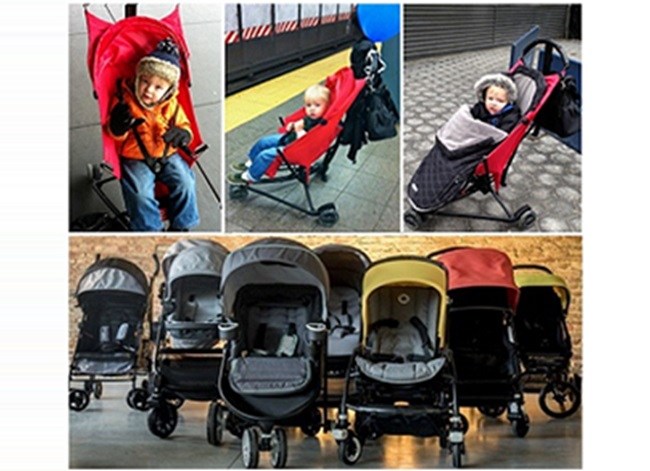 An umbrella stroller (lightweight stroller) doesn't have as many features as other strollers, but they make a good basic stroller to buy or as a backup travel stroller. They fold up nicely and are inexpensive.
Here, we have reviewed several popular stroller, their features, safety information and everything you need to know to help you make a decision. We hope our website helps you find the right stroller for your child.
Baby Strollers: Tips and Advice
Strollers can come with several features. You need to decide what is important to you?
Do you want a convertible travel system or a stroller that is just that and a car seat? There are travel systems that include a stay in the car base, an infant carrier/car safety seat, and a stroller frame for the infant seat which it is attached. These are great especially when your baby is newly born.
Strollers have a play tray that has insets for a bottle or juice cup. Many have canopies with a vinyl window so you can keep an eye on the baby. The brake on most strollers now are attached to both rear wheels and is easily applied with your foot and some also have a wrist strap brake that is used in conjunction with the foot break. It gives extra safety when you are stopped and the stroller won't 'roll away' while you have the strap.
There is usually a large storage basket under the seat(s) of the strollers and many strollers now are coming with a parent tray that is place over the handle bar. It has a spot for a cup of coffee or a soda, a place for your cell phone, your keys and a place to hold a snack.
Handlebars are now height adjustable on most strollers and are reversible moving from either the front to back or vice versa. The height adjustable feature is a great saver on the back the reversible handle can help you see your baby while he rides if necessary.
Does the seat recline and if so will it recline enough so that your newborn can lie almost flat? Is the seat well padded and will it be comfortable for your baby? Is the seat padding removable for washing?
Most upper end strollers come with blankets that can attach to the seat with snaps. These blankets make your baby's stroller like a bunting on wheels. Rain hoods are also detachable and can be used to protect your baby from harsh sunlight and winds.
Also Read: Baby stroller articles & reviews
Baby Travel/Gear News
Subscribe to RSS headline updates from:
Powered by FeedBurner