Stroller Cleaning Service: While you can always clean your stroller on your own, you also have the option of taking the services of a stroller cleaning service company. You can choose from a variety of service packages, depending on your budget and needs.
Stroller Repair Service
Depending on the brand and what sort of repair you need, you may not have to resort to shipping your stroller back to the manufacturer. If you've got a flat tire or other simple problem with the wheels, try taking your stroller to a bike shop.
Here we have listed more stroller repair service providers, where you can take your stroller for repairs and cleaning.
Stroller Cleaning Service
In case you didn't know that such services existed, you will be happy to know that there are stroller cleaning and repair service providers who provide the following:
Scheduled monthly pickups
FREE pickup and delivery
Good job of cleaning your stroller
Clean, Sanitize, Inspect
When you give your stroller for cleaning, make sure it is thorughly cleaned and sanitized:
Cleaning: The stroller should be throughly vacuumed, wipeed and washed from top to bottom.
Sanitize: Make sure they thoroughly steam each item to kill germs and bacteria (but without the use of harmful chemicals).
Inspect: Most service providers alsio inspect the stroller to see if any parts need to be replaced.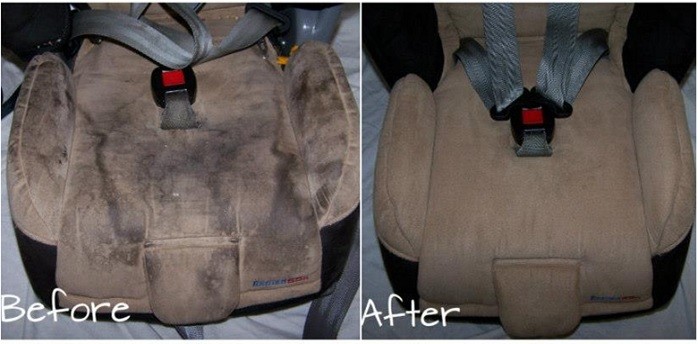 Why Stroller Cleaning Service
Every kid deserves a clean seat and every parent needs an extra hand, and that is why these services get regular business. As parents, it also frees your time, when can be better spent doing something better.
By taking their help, you can enjoy the peace of mind that comes with providing your child with consistently clean gear.
Regularly cleaning the parts of the stroller will ensure they stay in the best working shape for years to come.
Top Stroller Cleaning/Repair Service Providers
So do checkout the nearest stroller cleaning service.
Stroller repair in Chicago
For repairs that require attention to other parts of the stroller, try the on-site stroller repair and service center at the Lincoln Park location of Galt Baby(1915 N Clybourn Ave, 773-327-9980; repairs available Tue and Thu–Sun from 1–7pm).
Manager Jesse Trevino says the center has worked on "just about every stroller imaginable," though it does have better success with lower-end models, which tend to have parts that are exposed rather than covered. An online search can turn up surprising results for authorized repair dealers: Peg Perego's sole source in the city is Bell Television(4925 W Irving Park Rd, 773-282-4000). And if you bought your fancy Baby Jogger or BOB stroller from REI, you can bring it back to any of the outdoor outfitter's in-house repair service centers.
Totsquad
Tot Squad helps busy parents and caregivers by providing care, safety and installation of their baby gear both in retail settings and at home.
Locations: Los Angeles, NYC, San Diego, Washington DC
thetotsquad.com
stroller-boutique
Stroller repair in North America (US, Canada).
http://www.stroller-boutique.com/pages/contact
The Stroller Spa Dubai
The Stroller Spa Dubai is a stroller & car seat cleaning, rental and repairs service provider located in Dubai.
Do you remember the first time you took your baby out in your brand new stroller? I'm sure every parent would love to have their baby-gear looking brand sparkling new again?
The Stroller Spa helps busy parents keeping their strollers, car seats and other baby-gear free of germs and looking like new!
Our eco-friendly, non-toxic and organic cleaning service starts with picking up your item from your home or office and ends with returning it to your chosen location in a sparkling clean and germ-free condition.
We ensure that your baby-gear looks like-new with a variety of service packages to choose from suiting your needs and budget.
Site: thestrollerspa.com/
Prams with Pizazz
Scott Frew (dad-of-five) and wife Carolyn set up their coach restoring business, named Prams with Pizazz, after rebuilding a pram bought on Gumtree. They completely rebuild old prams, some of which have not been used for decades.
Today, orders for their refurbished prams, which can cost upwards of £1,500, are going global. Their bespoke prams including requests for Swarovski crystals, vibrant colours and more classic finishes.
Prams with Pizazz in Ayr was in the news for seeing spike in sales of vintage prams after Princess Charlotte's christening, as everyone wanted a pram like Princess Charlotte's.
So from where do they get their spare parts from?
"Wheels are imported from Germany, Holland and France and can cost up to £330 for four," says Scott.
Carolyn, who was an aeronautical engineer with British Aerospace before she had children, started "pimping" her prams three years ago. She has received a big thumbs-up from Sir Tom Hunter who has accepted her onto his Entrepreneurial Spark business accelerator programme.
Her business, Prams With Pizazz, has been such a success that Carolyn's husband Scott has taken over 'mum' duties to allow her to focus on the business full-time.
Carolyn, who spent hours, looking for a coach-built pram (for her youngest daughter) on the internet without any success, finally decided to create one herself. Carolyn paid £30 on Gumtree for a pram that required TLC and, armed with her toolkit, unknowingly launched a new career. "I got my spanners out, stripped it down, made the hood and apron, re-sprayed it, sorted the wheels and put it all back together.
And after absolutley stunning now pic.twitter.com/GoUmRYDbgo

— Prams With Pizazz (@Pramswithpizazz) May 25, 2014
Coach-built prams have been in use since the 1750s, but really came into favour in the 1870s with the birth of Silver Cross. Carolyn was recently invited to visit the Silver Cross factory in Yorkshire to see how they're made.
Website: pramswithpizazz.com.