Stroller Connectors reviewed here. Use them to make your own twin/double stroller or to connect other useful accessories. You get connectors (single to double stroller clips) for Umbrella strollers as well as other types of strollers. You get other types of connectors as well.
Popular Stroller Connectors
Here are some popular ones that you may consider for your use:
Joining / connecting two strollers
Prince Lionheart Stroller Connectors: Allows you to connect two single strollers together (works best with two identical umbrella strollers). Prince Lionheart stroller connectors are quite popular among users.
These Umbrella stroller connectors are great to hook two (or more) umbrella strollers together. When you're with another adult, you can split the two strollers and go separate ways (if you wish). You can always reconnect the two strollers later using these connectors.
Buy on Amazon | Buy on Walmart.com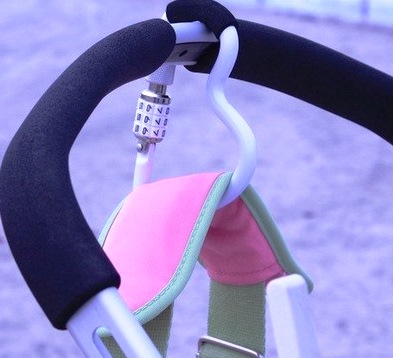 Stroller Hooks to hang bags
These connect to handles and other stroller connectors and allow you to hang bags (or even toys).
Multi Purpose Hooks: Connects to handlebars, stroller connectors. Can carry diaper bag, baby cloth, bags, clothing and groceries. This particular model can also be used on its own, when you are out for shopping, has a nice grip to it, you can hold it with one hand.
Buy on Amazon | Buy on Walmart.com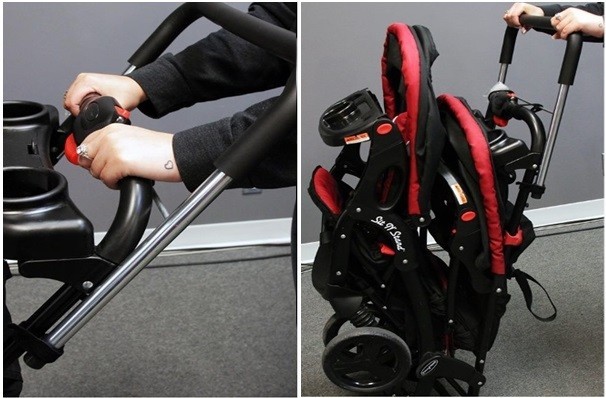 Handle Extenders
Not happy with the height of your stroller? Use these handle extenders.
Check out these Stroller extensions
Stroller Clips
These allow you to connect Swaddles, any piece of cloth/fabric to any of the stroller parts.
Stroller Clips: Use these to Fasten Swaddle Blankets and Other Necessities to Pram/Stroller
What exactly are these baby stroller connectors & adapters?
Well, these are also sort of accessories for your baby stroller but then these are specialized accessories that aid in connecting other components. These are handy parts/products that lets you derive more value from your stroller (lets you add other useful accessories to your stroller).
So for instance, if you want to connect a stroller board to the body of you main stroller, you will need some sort of adapter and a connector.
If you want to connect two single stroller together, you can use plastic connectors that easily snap onto stroller tubes to turn the two strollers into an instant tandem stroller. The advantage is that it saves cost as you really don't have to buy a double stroller when you can just manage with a connector.
You get various kinds of connectors that allow you to connect the different stroller accessories to the baby stroller, and even lets you connect two (or three) strollers together.
A Stroller Connector is the Cheapest Way to Make Your Own Twin Stroller
A Stroller connector lets you easily connect two ordinary umbrella strollers and make it into one double twin stroller. And you can do it for a fraction of the cost of an official double stroller.
The biggest advantage is that you can push both the twins around, all by yourself!
And its easy to attach these connectors (they have to be attached at multiple points).
You have a couple of options to buy stroller connectors (both these options work well):
Watch: Double Umbrella Stroller Conversion kit in action, connects two single Umbrella stroller together


Stroller Connectors: Do They Work Well?
Though most have heard of connectors, many have doubt if these stroller connectors do work well or not. Read more here on their performance and about the safety aspects.
The main advantage of stroller connectors is that it makes it possible to create a double stroller using an inexpensive accessory – the stroller connector.
The advantage is that you don't have to buy a new double stroller, and you can still manage both the single strollers on your own.
But is it as simple as it is made to look? Are there are any issues using them?
From a safety aspect, there is no issue whatsoever as the two strollers are tightly secured to each other using the connectors.
There can be issues around handling the strollers though. The more common ones being as follows:
It can make the strollers wider
It can be a nightmare in case you decide to take it to very crowded places
It can be challenging / require more effort to maneuver around certain corners
As you can see it can cause some minor inconveniences, but at the same time provides you with an option, in case you don't want to spend on a double stroller.
The stroller connectors that are quite popular nowadays include the Prince Lionheart Stroller Connectors and the Munchkin Stroller Connectors.
So Stroller Connectors do work well, if you factor in the situations where it can be difficult to use.
What is the Easiest Way to Connect Two Strollers?
Do you already own a baby stroller, and are expecting your next child? Now you can buy another one and connect them together using stroller connectors / attachment links.
Just because you are going to have, or have recently had your second baby doesn't mean you throw away the single stroller that you had purchased long back.
There is no need for you to buy an expensive dual stroller. You can just buy another stroller. But isn't that going to be difficult to manage.
With stroller connectors, it will almost be like using a double stroller.
What Options are Available
Thanks to the wide range of stroller accessories that are available, not only can one use a stroller to its maximum potential, you can even expand its features.
A stroller connector, also known as a stroller link / attachment lets safely connect two strollers, and in an instant you have a double stroller right in front of you.
You don't need any special tool to attach this; these connectors adjust so that they can fit strollers with different sized tubes.
How Does it Work?
These are not at all difficult to use.
These come with three separate latches, which have to be connected to the tube near the handle, to the one near the back wheel, and near the front wheel.
These three latches ensure the two strollers firmly stay together, and is not very difficult to maneuver, especially while turning.
The best part is that these are quite versatile and work well even if the strollers have different sized wheels.
Things to Keep in Mind
Remember, this is a great and inexpensive alternative to buying a double stroller, but here are a couple of things to keep in mind.
It can look wider than a double stroller
May require more effort while turning
But for the price you pay, these are minor inconveniences in my opinion.
Prince Lionheart Stroller Connectors

Prince Lionheart Stroller Connectors makes it easy to attach two single strollers. When the connectors are attached, the two strollers will be held together, side-by-side, approximately 6 inches apart.
The Prince Lionheart Stroller connectors easily snap onto stroller tubes to turn two single strollers into an instant tandem stroller, making it really convenient for you to manage two strollers, without having to spend a lot. Read more on these single to double stroller clips.
Prince Lionheart Click 'N Go Stroller Accessory Kit
The Prince Lionheart Click 'N Go Stroller Accessory Kit is an inexpensive Stroller Accessory System for families on-the-go. There are some really good strollers/prams out there, but come without any cup holder, have limited storage space, etc.
This stroller accessory kit is the perfect solution if you have a similar stroller. This kit includes two adjustable clips, one swivel cup holder, one snack cup, three bottle holders, one bonus mesh carrying bag and four bonus hooks.
Setting it up is easy, just mount clip to stroller and "Click" any Click 'N Go accessory in or out as needed. That's all to it really!
Another good thing about this Click 'N Go Stroller accessory kit is that all the accessories are interchangeable.
More features of the Prince Lionheart Click 'N Go Stroller Accessory Kit:
Comes with 2 clips/clamps with large & small crews and an allen wrench.
You get 3 different sized "C" shaped bottle holders (pop bottle in at the neck)
You also get a big cup holder
You get a Double-cupped snack cup with connected lids that swivel open.
Comes with a mesh bag…which is actually a bit smaller (7 x 9.5 inches) and probably provided to hold all the attachment parts together
2 large "S" hooks and 2 small "S" hooks…not top quality, but effectively does the work
All accessories are interchangeable
Dimensions: 10.9 x 3.8 x 14.5 inches, Weight 14.4 ounces
Various Types of Stroller Adapters & Connectors
Stroller board is just one example; you can have several such connectors that can help you to attach several useful accessories.
Some popular accessories that can be categorized as stroller connectors include:
Plastic / Wooden Board Rider
Wheeled Board Adapter
Stroller Connectors for Stroller Board
Stroller Child Tray
Stroller Attachments
Infant Car Seat Adapter
Infant Car Seat Adapter Frame
As you can see these are used so that you can easily and securely connect accessories such as stroller board, or tray, or organizer, or bag, or any other stroller accessory.
More Uses
Stroller Connectors have several uses. You can make a double pushchair in a snap! Stroller Connectors are moulded plastic connectors that easily snap onto pushchair tubes to turn 2 pushchairs into an instant double pushchair. The Pushchair Connectors can be adapted for use on pushchairs with wider frames and are intended for use with identical pushchairs or pushchairs with the same geometry.
Stroller Connectors: Buying Links
Here are some of the top online stores where you can buy stroller connectors.
To Conclude
In case you are expecting another child, you don't have to throw away your first stroller, and get a dual one. Just get another single stroller and connect them using a connector. This is an economical way of owning a double stroller, and the stroller attachment makes it quite convenient for you to handle both the strollers together, on your own.
The examples mentioned above are just some of the scenarios. You can attach many more things using stroller connectors that can make your outdoor walk with your baby much more convenient and enjoyable.