Stroller Handle Extenders: Strollers nowadays offer lot of flexibility, and that extends to stroller handles as well. Strollers come with adjustable handles to cater to parents of various heights. However, if your stroller comes with a fixed stroller handle, you can get an handle extender (for taller parents.)
Most Baby Stroller Come With With Adjustable Handle
As mentioned, you do have the option of buying a baby stroller that comes with an adjustable-handle, to cater to parents with varying heights.
You can say, this is an important factor to consider when buying a new stroller, as the stroller height can cause lot of inconvenience (if its not the right height for the parent).
An adjustable stroller handle allows you to adjust the height of the handle (easily done).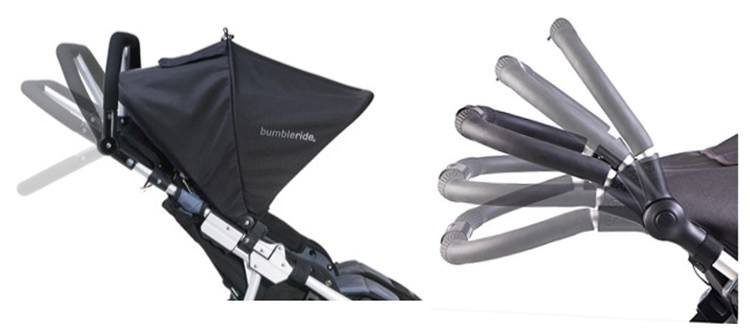 But what if you already have a baby stroller and it doesn't come with an Adjustable Handle? In that case, you need to buy a stroller handle extender.
Why Stroller Handle Extenders?
In today's world, almost everybody wants the best bang for their bucks and want the products they have purchased to last for a few years (at least in the case of baby strollers). When it comes to baby strollers there are a range of useful accessories available, such as kids glider boards, organizers, and more.
The only issue is that using such accessories may not leave you with sufficient space to walk comfortably with your stroller. Besides, depending on how tall you're, you may find the stroller handles too short for your comfort, thus making your walks painful, tiring & hunchbacked.
That's why handle extenders are such useful accessories/part.
A strong>Stroller Handle Extension Bar is an useful accessory helps extend the handles on Baby Strollers and makes it convenient for you to walk along with the stroller. On certain sit and stand strollers and on strollers on which you attach a stroller board, it can leave very little space for the parent/caretaker to walk comfortable while pushing the stroller. A stroll Handle Extension Bar gives you that much needed space to walk comfortably with decent strides. Checkout this popular universal stroller handle extension bar on Amazon.
Best-selling Stroller Handle Extenders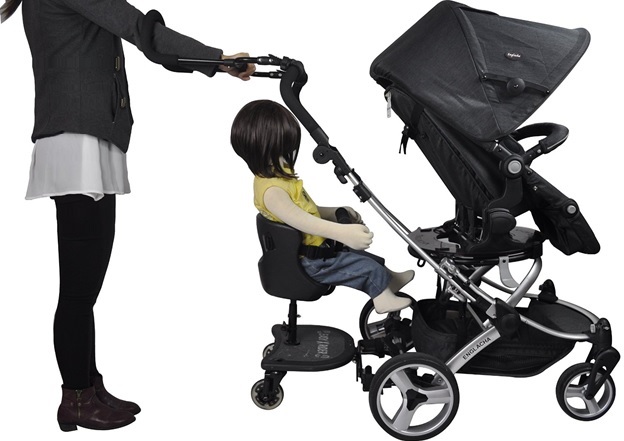 Englacha Cozy Stroll Handle Extension Bar
Lightweight Englacha Cozy Stroll Extension Bar can be installed on any buggy, stroller or pram easily without requiring extra tools. Its extremely versatile, and can be used to increase the length of any stroller handls — umbrella or curved handlebars. Read more…
Englacha Cozy Stroll Extension Bar can be used to increase the length of stroller handles of many popular brands of strollers, including the following: Baby Jogger, Baby Trend, Bob, Britax, Bumble Ride, Chicco, Cosco, Eddie, Bauer, Graco, InSTEP, Jeep, Joovy, Kolcraft, Mia Moda, Peg Perego, Phil and Teds, Safety 1st, Schwinn, The First Years, Tike Tech, Uppa Baby, Valco Baby, and more.
Origin8 Compe Lite Bar End
Available in short (ski bend) or long (L bend) variants. Alloy construction w/ forged clamp. Works well with strollers, bikes.
With some modification, this works as a great umbrella stroller extender.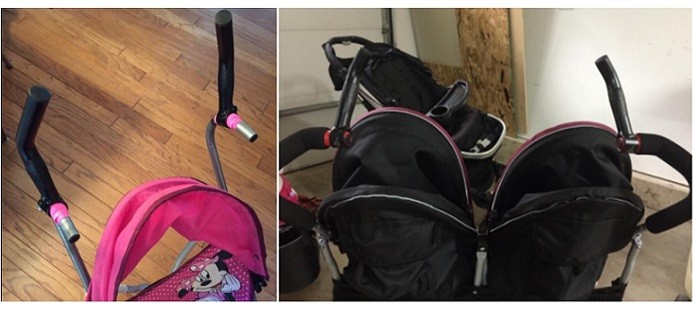 There are many users who have used these to make the handle of their umbrella stroller a bit longer, thus making it easier to push the stroller. In some cases, the stroller handles were a little too small for these accessories to fit, but one of the users wrapped each stroller handle with a tennis racket grip (cut in half), and then used these connectors and it worked perfectly.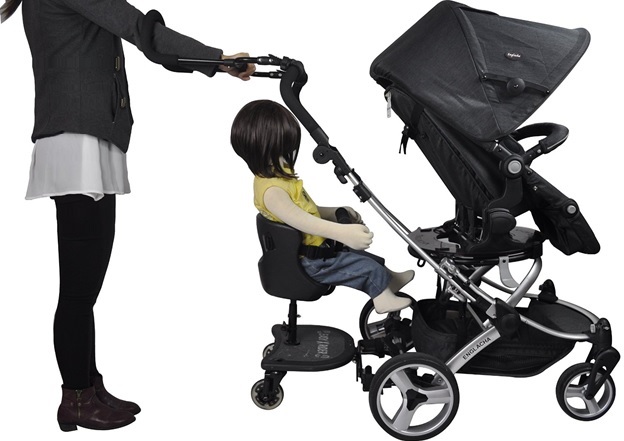 Mee-Go Cozy Stroll Universal Pushchair Handlebar Extender / Extension Bar
Another universal handle is this Mee-Go Cozy Stroll pushchair handlebar extender. Features a comfortable padded grip. No tools are required to attach this, and it increases the walking space by 12-15cms.
How to Extend Stroller Handles
Here's how to extend stroller handles, in case you feel that the stroller handle is not of adequate height, and you don't want to be hunched all the time when pushing the stroller.
No doubt the baby stroller is a great help to moms, but then there are several factors that you need to consider before selecting one, especially when it comes to things like boards or the stroller handle.
Would you really enjoy the experience if you had to bend all the time when pushing the stroller, when you are out with your baby?
Not at all; nobody would like to lean over all the time when out with your kids, especially the taller folks.
So assuming you already own a stroller, is there any way you can extend the handles?
Here's what you can do.
Check if your stroller has adjustable handles
If you have bought the stroller recently, then you could be lucky. Most recent ones do come with adjustable handlebars. So check the manual on how you could do it.
Most of the time, it is as simple as pulling the handle up and out, or adjusting the angle.
Buy a Stroller Handlebar Extender
There's definitely a way out of this ordeal, and that is to use 'Stroller Handle Extensions'. If you have an umbrella-style stroller, by all means get a handle extension bar, in case you find it painful to push.
The option is to buy stroller handle extenders, or a stroller handlebar extender.
Usually there is a clipping mechanism that comes into picture, but it would be wise to read the instructions for the extenders carefully, and take into account all safety warnings and cautions.
Here's a video that shows How to Use Extension Handles For Your Child's Umbrella Stroller

There are many who have a umbrella stroller but rarely use it because the handles are way too low and it hurts their back. The problem is aggravated in the case of taller people. So using 'Extensions' is definitely the way to go.
Easy to Extend Stroller Handles
Using an handle extension bar, its possible to get at least 12-15 cm extra space for walking at the back of the stroller, which is not at all bad.
You do get universal handle extension bars that attach to any buggy, stroller or pram. So time to remove your umbrella stroller from the closet, and start enjoying your outdoor walk again.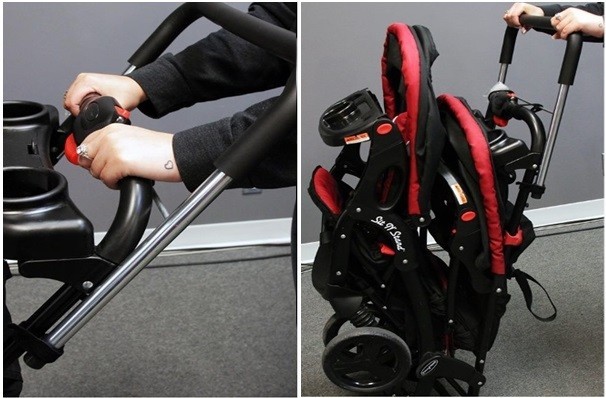 Stroller Handle Extender: Frequently Asked Questions and Answers
Here are some commonly asked questions around using a Stroller Handle Extender.
Will the Stroller Handle Extender fit my stroller?
The options that we discussed here are universal in nature, so those Stroller Handle Extenders should fit most strollers. Please feel free to contact us in case you;re having trouble using a Extender with your stroller.
My husband is over 6 feet but I'm only 5'5″. So will the handle extender be inconvenient to me?.
The best thing about using the extender is that it doesn't obstruct you from using the stroller's own handle. Even when the extender is attached, you can still access the stroller's handle, so grip the handle that's most comfortable to you or to your husband or for the caretaker.
Are they easy to install / setup?
Yes, its easy and you don't require any special tools to attach the Stroller Handle Extender. The Velcro straps attach to the crossbar and on either side of your stroller's handle. The steps are intuitive, but you can still find the full instructions included on the package.
Do you need to remove The Stroller Handle Extender in order to fold the stroller?
This is another big plus! You don't have to remove the handle to fold the stroller. But, even if you wish to remove the extender for some reason, it's easy to do so.
Are there more colors options?
Usually, they stick to black color so that it goes with most colors of the strollers. So expect the foam grip and Velcro straps to be black in color.
Difference between Stroller Handle Extender and a Stroller Handlebar Extender?
Usually strollers that have two separate handles, such as the ones in umbrella stroller, you'll need stroller handle extenders, whereas if your stroller only has one single horizontal handlebar, you will need the stroller handlebar extender.
The mechanism is more or less similar; its quite easy because of the clipping mechanism. Once the handles are at the right height, you need to tighten the wing nuts to hold the extenders in place.
As you can see, the best part about stroller accessories is that they let you extend the functionality of a stroller for a minimum cost. However, if you are buying a new stroller, and if you / your partner are very tall, you should ideally buy one that comes with built-in adjustable handles/handlebar.
But in general, this is how to extend stroller handles.
Watch: How To Make A DIY Stroller Handle Extender With PVC Pipe – 4 ways to fit multiple strollers


Britax Stroller Handle Extender
Britax stroller handle extender for Britax strollers, allows you to increase the height of the stroller handles so that you can stand comfortably and push the stroller.
You get a set of two extension adapters for the Britax Strollers. It fits well, and makes it comfortable for you to push the stroller.
Most Britax strollers nowadays offer an adjustable handle (in case you are planning to buy one). It means you do not have to use any kit to extend the handle height.
However, on some strollers may not have that option so you will need to attach a separate extender.

Britax's B-Agile Stroller


Mountain Buggy Handlebar Extension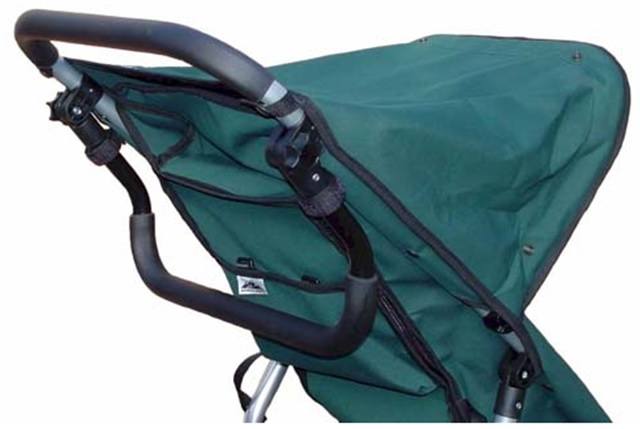 Mountain buggy handlebar extension is a replacement handle (complete with grip) that you can use for your Mountain Buggy (the swift stroller).
The Mountain Buggy Handlebar Extension cannot be used with any other make of pushchair/stroller/buggy or other wheeled or non wheeled product. Please DO NOT email requesting specifications because you wish to try and adapt it for another purpose.
Attaching it is not a big deal. You will have to remove your existing handle (using allen or hex key) and replace it with the new one.
The handle adjuster joints are not included with this buggy handlebar extension, but you can buy it separately.
The rubber handle back on the buggy feels nice, and its always a great feeling when you can get replacement parts for your pram.
Like most rubber handles, the rubber tends to break over time. But there's no doubt the Mountain buggy handlebar extension is a useful product.
Final Words: Stroller/Pram Handle Extender
Stroller Handle Extender Set: Lot of parents (especially those who are on the taller side) complain that the umbrella handlebars on strollers are not tall enough for them to push without bending, which when done over a period of time causes back ache.
Using an umbrella stroller handle extender is one option to increase the length of the handles.
A stroller stretcher comes with foam handles
A universal pram handle extender attaches to most umbrella strollers
Adjustable stroller handle extensions let you adjust the height to suit users of varied heights
It seems that almost all the folding strollers nowadays are made for shorter people, those under 5ft 6″ who have a short stride. So if you're even slightly taller, its likely that you will end up kicking the back of your stroller.
A Pram handle extender can help such users, and its a workable solution if you walk up and down any surface. Its a great help for tall people. Not only does it make it convenient to walk, the feel of the grip on the hands is also great. It feels great and the extra height and stride space makes tall users a happy lot when they are out with the pram. The handlebar adds length to the pram when fitted, but on some prams it could disable the folding mechanism. So just be aware of that.
Stroller Handle Extenders
Graco stroller handle extender
Britax stroller handle extender
Cosco stroller handle extender
Also Read: Best baby strollers fr Taller Parents