Looking for spare or replacement parts for your baby stroller, bike trailer, wheelchair, rollator or infant Car Seat? Here you will find all the quick fix parts that you need for your stroller. Find stroller replacement parts and spares for your old baby stroller (worn-out or broken). Spares for parts like wheels, canopy, brakes, etc. are easily available. These are charged extra and are needed for carrying out repairs on your stroller. You will also find a variety of stroller parts that will help enhance your experience with your stroller. You may skip directly to baby stroller replacement parts on Amazon
Popular Stroller Parts
Burley Design One-Wheel Stroller Kit
Baby Trend Stroller inner tube (front wheel)
Joovy Zoom Car Seat Adapter for Chicco Keyfit 30
Baby Jogger City Mini Front Swivel Wheel
Baby 5 Point Belt Lock Clip Stroller Safe Harness Strap Buckle
Shop by Brand
Shop by Type
Why You Need Replacement Parts?
You may need stroller replacement parts because of these reasons:
A stroller is always on the move, strollers undergo wear and tear over time, because of which certain parts need to be replaced.
There are many who buy a second-hand (used) stroller, which might be in great working condition but may need minor changes like replacing the seat belt or the canopy or a wheel, and so on.
You may want to add better features to your existing stroller, such as handle extension, canopy or better tires. You may want to change up color, refresh a sticky foam handle, need a basket for your stroller, a replacement pad for your car seat, and so on.
If you're the owner of a stroller, always get into the practice of keeping a check on the condition of your stroller; see if any part is wearing off, or is on the verge of breaking. Such parts should be immediately replaced as it could compromise with the safety of your child.
Images showing Stroller Parts Names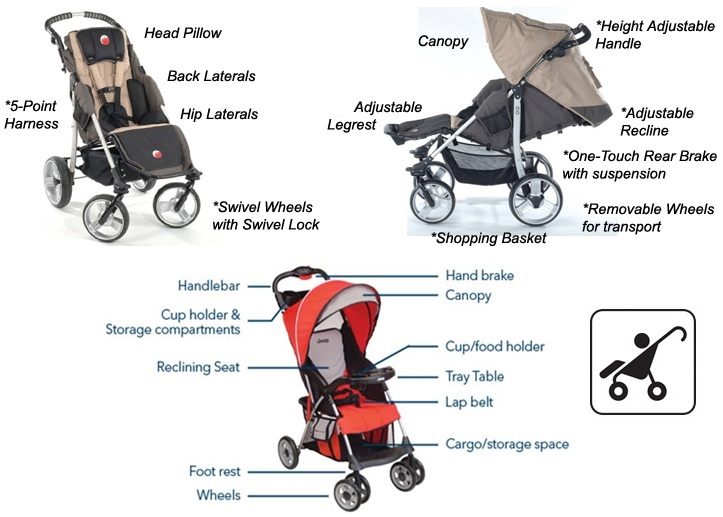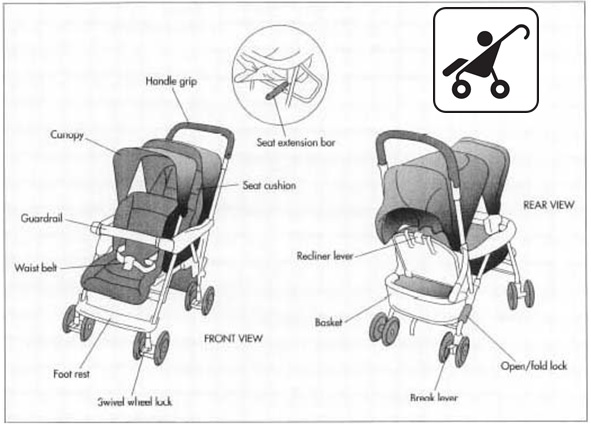 Check Manufacturers Website
When looking for replacement parts, its a great idea to check the manufacturers website for more details. At times, you can find a better or more recent part than the one you're looking for.
If possible, try to get the serial number and model year of the stroller, for which you're looking for a replacement part. This will help you determine the correct correct part for your stroller. In case you're writing to or calling 'support' of the company, do provide them with these details so that they can better serve your needs.
Register Your Product
If you've bought a new stroller or car seat, make sure you register the product (you can do it through the company's website) as soon as you get it. Usually it has to be done within 3 months, but its best to do it as soon as you buy the product.
Warranty claims are smoother and handled comparatively faster when you've registered your product. So if any stroller part needs to be changed/replaced, the company will do it at the earliest.
The warranty period usually varies, depending on the company, but a period of 24 months is common. Also, the warranties are usually specific to the company from where you have purchased.
Buying Stroller Replacement Parts?
The good thing for parents and caretakers is that regardless of the various types of stroller, they all use the same basic stroller parts that's required to keep them functioning properly (and provide safety to the children).
Here are the common/basic stroller parts and their purposes:
Ready To Roll Wheels, Tires, Inner Tubes, Flat Prevention, Wheels, Pumps, Tools & Repair Kits, Shock Assemblies & Brackets, Brake Parts, Frame Parts (Handlebar, Main Frame, Swing Arm, etc.), Fabric Parts (Canopy, Seat, Cargo Basket), Infant Car Seat Adapter Parts
Wheels: These are usually the first to wear out; Wheels come in various sizes – large to small, depending on stroller. Larger wheels are better suited for rougher terrain whereas the smaller wheels are great for day to day uses. The number of wheels however might differ from one pram model to another (Jogging prams usually possess three wheels). Make sure the pram you are purchasing for your little one is of high quality; wheels made from cheap material might make the ride uncomfortable for your baby.
Seats: Mostly parents of infants look for prams that have just one seat. However, some prams can accommodate two babies. Two-seater baby prams can be of two types – one type has seats that are side-by-side, another type has seats that are in a line.
Straps: These keep babies in place to prevent injury. Most strollers have adjustable straps. Having straps in the pram is also important if your baby has become a toddler; they will stop your little one from coming out of the pram when you are away.
Storage: Storage space are quite useful to carry items like your baby food and clothes with you when travelling with your little one. Some strollers have detachable storage areas; the storage space usually includes a tray which is positioned at the pram's base.
Base: The base or chassis of the stroller holds all the stroller parts together. The base is attached to the wheels, supports the seat and in some models also form the handles. Handles are important parts because that's what the parents hold while pushing the stroller.
Seat: The seat is perhaps the most important stroller part because that's where your child is seated all the time. Most stroller seats allow infant car seats to be safely strapped in to the seat of the stroller.
But then, these are only the basic parts. Stroller replacement parts allow you to change or enhance the color, refresh a sticky foam handle, replace a broken wheel, tube, tire, bearings, etc.
Another good thing is that most of these replacement parts are usually inexpensive, and perfect fit the stroller.
So for all those missing or broken parts, check here.
Also Read: Sit and Stand Stroller Replacement Parts
Watch: How to remove the stroller parts like front & back wheel and bumper bar from a stroller

Stroller Parts: Top Online Merchants
Here are the top online stores where you can buy stroller replacement parts. You will find several stroller parts for sale.
Have any questions on stroller spare parts, please share it below.