Guide to Stroller Travel Bags/Buggy Bags. I am yet to see a decent stroller that is available for less than $100 (which means strollers are not really cheap), so you should ideally make your investment last longer and protect it with a stroller travel bag. It makes traveling with the stroller easier and you can also use it to store the stroller back at home. Skip to the best stroller travel bag on Amazon.
Best Stroller Travel Bags
The best ones will serve you well, are made for heavy usage and lets you travel a lot with your stroller. It keeps your stroller going great, and also makes it look very neat and tidy for its age.
What you also need to know about Travel bags is that they are not only useful for transporting your single/double/umbrella/jogging strollers, they can also be used to store the stroller back at home…to prevent it from gathering dust.
These stroller bags make it easy and convenient to protect your stroller from dirt and germs during airplane gate check. Most also come with zippered pouch to store the bag when not in use.
Besides, they can also be used to carry your beach chairs, baby high chair or camping gears when you travel outdoors.
Whether you travel by plane, train or automobile these stroller travel bags will have you covered.
COMPONO Stroller Travel Bag for Airplane
The COMPONO Stroller Bag is a great accessory for Gate Checking your Stroller on any flight. It protects your stroller from grime, airborne contaminants, water, etc. Stroller Bag measures a massive 48 x 25 x 19 Inches, fits even the largest Strollers on the market. Made from High Density Water-Resistant Material. Vibrant Red colored. Luggage ID Pocket with ID Card. Logo conveys contents as fragile for safe handling.
Bugaboo Comfort Transport Bag for Strollers
Here's a complete review of the Bugaboo Comfort Transport bag, perfect for providing additional protection to your stroller, and also to protect the stroller from dirt, scratches and water during travel. This is the perfect accessory for your family holiday travel. Comes with comfortable carry handles, wheels for easy rolling, padded shoulder straps for carrying, and a separate bag for front and rear wheels this keeping the stroller clean.
Pros: Suitable for all strollers, easy to place the stroller inside, sturdy, extra padding for protection
Cons: Large size
Features of the Bugaboo Comfort Transport Bag for Strollers:
Protects your stroller during travel against dirt, scratches and water
It stands upright, and has wheels for easy rolling, making it convenient to carry
Folds to a compact small size when not in use
Compatible with all Bugaboo strollers, and even other strollers
Easy to transport the stroller from baggage check to taxi stand.
Dimensions: 25 x 17.6 x 7.1 inches, Item Weight: 10 pounds
Buy on Amazon | Buy on Walmart
J.L. Childress Gate Check Bag for Standard and Double Strollers
Use this handy, compact travel bag when gate checking a standard or double stroller to protect it from dirt and germs. The bright red color and large graphics easily identify your item for return to gate. Fits and covers most standard and double strollers easily with draw string closure and adjustable lock. Stuffs quickly into attached pouch for traveling convenience.
Fabric/Nylon
Protects stroller from dirt and germs
Made of lightweight, heavy duty fabric
Bags will fit and cover most car seats and standard or double strollers easily with drawstring closure and adjustable lock
Bright red color and large graphics easily identify your item for return to gate
Includes Gate Check Bag for Car Seats (34 L x 18 W x 18 D and Gate Check Bag for StandardDouble Strollers (46 L x 21 W x 13 H
JL Childress Standard and Dual Stroller Travel Bag
The JL Childress Standard and Dual Stroller Travel Bag makes sure your standard or double stroller is protected when you're traveling. The heavy canvas material provides protection & contained the stroller well. The carry handles come with padded hand protector and makes carrying the stroller easier. Its spacious, heavy duty, and the fabric used is water resistant as well as built to provide maximum protection.
The bag can also double up as storage bag for beach chairs, high chair, sports equipment, toys, camping gear and more.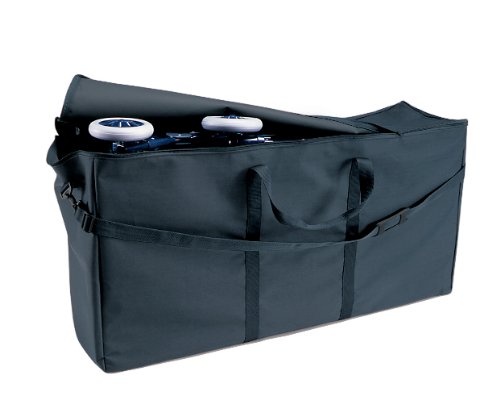 Here are the main features of the JL Childress Standard and Dual Stroller Travel Bag:
Fabric used is Polyester
Made of heavy duty fabric
Fits most stroller brands including Peg Perego, Phil and Ted's, Quinny Buzz, Bob Single Jogging Strollers, Graco Duo Glider, Metrolite and Snug Rider, Bugaboo, Joovy, Chicco, Combi and Combi Twin, Maclaren and Maclaren Twin and more
Zippered top opening, pocket
Adjustable and detachable shoulder strap with shoulder pad for comfort
Includes ID pocket with ID card.
To ensure that this item fits your stroller, check the compatibility chart
Dimensions: 42 x 21 x 13 inches, Weight: 1 pound
Buy on Amazon | Buy on Walmart
Britax B-Agile Stroller Travel Bag
The B-Agile travel bag is perfect for keeping the stroller clean for gate check and also provides a barrier against the natural elements. Its designed with heavy denier material to offer better protection to your stroller when traveling. The bag also features a shoulder strap for comfortable carrying, which is removable for airport travel.
Here are more features of the Britax B-Agile Stroller Travel Bag:
Made of Nylon
Designed with heavy denier material
The folded stroller fits in the bag without you having to remove the wheels
Comes with a shoulder strap for comfortable carrying, removable for airport travel
Dimensions: 24.4 x 9.7 x 30.7 inches, Weight: 1 pounds
The Britax B-Agile Stroller Travel Bag is definitely worth it if you're flying and gate checking your stroller. Easy to tote, and keeps your stroller from getting damaged or covered in dirt during the travel.
Buy on Amazon | Buy on Walmart
Maclaren Buggy Travel Bag
Fits all single seat Maclaren and most umbrella-fold strollers
Durable Padded construction protects your stroller
Internal tie downs keeps stroller secure
Extra large dual zip opening for easy packing
OPEN: L x W x H 46 x 14 x 13in
Rolling is easy thanks to the smooth wheels and multiple carry handles
Overall, a perfect Maclaren stroller travel bag for a single stroller.
Phil & Teds Universal Travel Bag
Phil & Teds universal travel bag reviewed here. Great for transporting stroller and other baby gear on planes, trains, and automobiles. Specifically designed to carry your buggy, the universal travel bag can also take a small bike, car seat, clothes, shoes, and more.
Being a universal stroller bag, it works not just with phil&teds strollers, but also with other brands.

Watch: How to pack a Phil&Teds Buggy into its Travelbag


Key Features:
Offers protection to stroller (or car seats)
Adequate space, adjustable size accommodates more baby gear
Sturdy wheels allows you to roll away the bag, when its fully loaded
Shoulder strap for easy carry off the ground
Lightweight at less than 5 lbs.
Video instructions on how to pack both a single and a double stroller in the bag is provided.
Rolls up into a compact bundle that can be stored away when not in use
Tough material from the outside and padded interior to better protect your baby gear
Fits most brands, including phil&teds, mountain buggy (single and double strollers)
Can be used for car seats, accessories, a small bike, clothes, toys and more
Buy on Amazon | Buy on Walmart
Angel Baby Travel Gate Check Bag for UMBRELLA Strollers
This Travel Gate Check Bag for UMBRELLA Strollers is designed to protect your Stroller Investment from dirt when you're traveling. Be it on airplanes or in the car, this tough stroller bag provides the needed protection and keeps it clean when traveling. You may also use it just for storage, in the garage or in some corner of hour house, so that it doesn't gather dust. Its tough, yet lightweight, made of top quality and double-strength nylon.
The best part is that its UNIVERSAL and fits most umbrella strollers such as: Maclaren, Combi, Chicco, Peg Perego, Cosco, and more!
Here are more features of the Angel Baby Travel Gate Check Bag for UMBRELLA Strollers:
Made of double strength polyester yet its lightweight
Water Resistant fabric
Built to last a lifetime
Comes with SHOULDER STRAP
PROTECT your Stroller Investment from dirt and germs whether you are traveling on airplanes,in the car trunk, closet, or simply storing it in the garage!
Convenient Carrying Handle with a Drawstring Closure
Adjustable lock for easy opening and closing, with an ID TAG for identification
Large Graphics with ID Box for Name
RED bright colour
Comes with a LIFETIME GUARANTEE
Dimensions: 12 x 45 x 15.5 inches, Weight 5.6 ounces
Buy on Amazon
Bebishi Ultra Durable Umbrella Stroller Travel Bag
The Bebishi Bag is a perfect, light-weight solution to store and protect you valuable investments. Use it for Airline Gate Check or for Storage.
The Bebishi Bag comes with reinforced seams and handles, looks fashionable and is functional. Because of its color and design, its easier to spot in a crowd. Can be quickly unpacked and repacked in the self contained storage pouch.
Made of high quality 210D Nylon with reinforced double stitched seams and the handles and shoulder strap are reinforced on the inside of the bag to help preventing ripping. Also, the material is naturally mold and water resistant for extra peace of mind.
The Bebishi Bag to be self contained and quickly fold into the attached carrying pouch which can then be tossed in to your diaper bag or stroller when not in use. The best part is, the bag weighs less than a pound!
Unique design allows the zippered storage pouch to be used for storing items while the bag is in use.
Gate Check Pro XL Double Stroller Travel Bag
Gate Check Pro XL Double Stroller travel bag offers lightweight luxury protection for your double, jogging stroller & travel system. Avoid the germs and risks of the loading bay and airport tarmac with a gate-attendant-approved solution. Perfect for jogging strollers, double strollers, and travel systems, the Gate Check Pro XL Double Stroller Travel bag measures at 47″ Height x 23″ Width and 14″ Depth.
DURABLE BALLISTIC NYLON – Designed with the same nylon used by the US Military to protect troops before the invention of Kevlar. In other words – there's nothing more durable and secure when it comes to protecting your stroller. Created to the highest standards, the Double Stroller bag ensures that your stroller is clean, dry, and well-protected upon arrival to your destination. Dimensions: 47″ Height x 26 Width x 17″ Depth
UNBEATABLE PEACE OF MIND – The Gate Check Pro XL Double Stroller Travel Bag means you'll never have to worry about a dirty or wet stroller again when dealing with a tired child after a long flight. After all, travelling with children is stressful enough! Your Gate Check Pro bag is constructed using shower-resistant seems, and 100% waterproof fabric
LIGHTWEIGHT, COMPACT & CONVENIENT – Created to fit most jogger, double or stroller travel system. Contact us for a compatibility chart if you're concerned about sizing. What's more, the Gate Check Pro XL folds into a handy travel bag that slips neatly into your hand luggage when not in use. On top of that, the ERGONOMIC,
PADDED BACKPACK STYLE shoulder straps ensure that the bag is more comfortable and convenient to carry, while leaving you hands-free to deal with children
BUILT TO LAST – Backed by a manufacturer 100% LIFETIME MONEY-BACK GUARANTEE, we're proud to offer you a risk-free purchase that ensures you'll be happy with your Gate Check Pro solution for years to come. If you have any problems, we'll be there to support you with no hassle, or fuss. Also available for purchase today: The Gate Check Pro Car Seat Travel bag – ensuring complete protection for your next flight.
Bububee 'Elua XL Double Stroller Gate Check Travel Bag
At 24in x 48in x 19in base, Bububee stroller bag is one of the biggest on the market. If you have a single umbrella style stroller, we recommend the Bububee 'Elua Single Umbrella Style Stroller Bag.
FITS MOST DOUBLE STROLLERS: Designed by a former airline employee & mother of three, BububeeTM's XL Double Stroller Bag is tear & water resistant with a generous sizing that fits most double strollers (tandem or side by side).
TEAR & WATER RESISTANT WITH REINFORCED SEAMS: Keep all the grime out, and feel the difference! This bag is made of heavy duty Oxford nylon with reinforced seams to prevent tears and to keep moisture and grime out your stroller.
4-STEP SECURE CLOSURE SYSTEM: Bububee's 4-step closure system prevents our bags from opening while being handled. Step (1) Cinch the drawstrings from both ends, Step (2) Lock both ends, Step (3) Tie the ends of the drawstring into a bow, Step (4) Cover the opening with the velcro flap. Have peace of mind knowing that your stroller bag is protected with full coverage.
5 WAYS TO CARRY: With 2 padded backpack style straps on the backside, 2 side carry straps and 1 front handle strap, there are so many options when it comes to transporting your stroller.
PORTABLE & STYLISH: Neatly folds into a carrying pouch that is attached to the inside of the bag. It's so good looking, you forget that it's a stroller bag!
goSMART XL Stroller Travel Bag for Double Strollers, Jogging Stroller and Travel Systems
This goSMART stroller bag is designed to protect your stroller as you travel by land and air. The high quality design allows your stroller to stay CLEAN, DRY and free from germs. The bag is lightweight and easy to store when not in use. The bag folds up easily into the attached TRAVEL POUCH so you can take it on the go. ERGONOMIC DOUBLE BACK STRAPS making it easy to carry keeping your hands completely free.
Made of thick, tough, military grade BALLISTIC NYLON fabric that is 100% water, dirt and germ proof.
Personalize YOUR stroller bag by writing your name in the large white ID box, printed under the logo
Locking drawstring closure keeps bag securely closed.
XL Bag measures – 47″ height x 23″ width x14″ depth – carrying pouch measures 12″ across
Stroller Travel Bags: Buying Links / Top Merchants
Here are the top merchants where you can buy stroller bags online.
Stroller Travel Bags: Guide
Travelling is an important part of life. Just because we have a baby doesn't mean that we cannot go on vacations or go on weekend drives. With some cool baby products out there such as strollers and buggy bags, you can definitely make travelling much more comfortable, along with your baby.
If you have purchased an expensive stroller, it's also important to protect it well so that it lasts longer; the best accessory for that is a jogging stroller travel bag.
What to look for?
So what does a user look for in a stroller travel bag? Here are some of the factors that determine whether a bag is good.
Designed with heavy material to protect your stroller when traveling
They are water resistant material with padded interiors
Some have carry handles, some have strong/padded shoulder strap with adequate padding for comfortably carrying the stroller
Good locking zipper
Some bags come with Roller wheels that makes them easy to manoeuvre.
Provides lots of room for your stroller, and maybe few pockets to keep things such as diapers
Although some stroller bags are designed for specific models of jogging strollers, you do get good universal stroller bags that fit a variety of brands and models of strollers. The universal travel bags are generously spacious and have several pockets to hold several items, besides your stroller of-course.
Fortunately for you, there are lots of brands out there that offer universal stroller bags, that provide all of these features.
Factors to consider
Before buying a stroller bag, make sure you have considered these essential features in a travel bag:
Make sure you check the measurement of the travel bag to ensure it fits your stroller when its in the folded state (common complaint of most buyers).So do check the size of the bag against the dimension of your stroller before using your credit card.
If you plan to buy a universal travel bag, check that your stroller model features on the list it can carry. Make sure you also check the dimensions before purchasing, to be doubly sure.
Make sure the material or fabric used is strong and waterproof. You don't want a stroller bag that tears easily, or one that leaves you with a soaking stroller.
Look for padded carrying handles and shoulder straps as they make it easier to carry the travel bag. Remember, you can also opt in for the ones with roller wheels
Consider a travel bag bag that has an end-to-end zip so that it opens wide, for uninhibited access. It only makes it easier to put and remove the stroller from the bag.
The popular colors are Red and black. Many prefer red so that its easier to spot, especially when you have to collect it from the luggage counter in airports.
---
Bob, Baby Jogger, Childress and other major brands make great bags for their jogging strollers. Remember, you also have the option of buying a universal travel bag if you're unable to purchase a travel bag made by the manufacturer of your stroller. The universal ones are comparatively cheaper than travel bags from a known brand manufacturer.
---
Consider a travel bag that comes with roller-wheels if you travel a lot by air, only makes transporting the stroller in and out of airports easier, they also offer additional storage on the go.
---
You Can Fit Lot More
As you use this accessory often, you will figure out the best ways to place things inside and probably store lot more than what you would have expected.
There are many who are able to get their stroller, infant car seat, and the car seat base in these stroller bags, though not all bags may let you do this.
To Conclude
When you're travelling with children, the last thing you want to worry about is struggling with a damaged, damp, or dirty stroller at the end of your journey. These Stroller bags are designed to give you peace of mind and your child a familiar smelling haven after a long journey.
Whether you're traveling with your buggy or storing it, you can keep it clean and all at one place with a buggy carry bag. Made from durable, rip-resistant material, Stroller Travel Bags are waterproof and feature a locking zipper and extra-long shoulder straps. These fit folded strollers easily and are quite convenient to carry.