Lot of places like in Canada, you got snow in winter and gravel roads /paths in summer. These strollers are best suited for winters with lots of snow. The heavy snow during winter should not deter you from venturing out with your kids. A good stroller that won't get stuck when the snow starts falling (and the sidewalks turn to slush) does make life easier during harsh winters. A good stroller for Snow And Winter Season is actually good for all seasons and terrains. Here are the top strollers that you can use in winter when its cold, snowing, and you still need to get things done.
Things to Look For
You need a stroller with solid wheels that will push through the snow. Strollers with bike style wheels (1 big wheel in the front with big thick tread, not plastic wheels but tires with air) work great on snow and all all kinds of terrain. These are smoother to push on all types of terrain. Wheels that have air are way smoother then hard plastic wheels on most rough surfaces, including snow.
Having the front wheel that locks does help a bit on snow, but its also more of a hassle to steer. Also, the bigger the wheel size, the better it is (for most terrains, including snow). Its very helpful in spring time when the snow starts to melt and everything is slippery and slushy.
You should choose an all-terrain stroller, these are sturdy and built to last.
Get a sturdy stroller with a big front wheel that can be locked, helpful in heavy snow, gravel, or sand.
Also, if you live in downtown Toronto or Montreal, you need something more compact. A huge/wide stroller will make it uncomfortable to use in crowds or while in transit.
Good winter strollers will be easy to push through snow or ice. Wheels are large and gripped and these strollers are heavier and often include bundled winter accessories.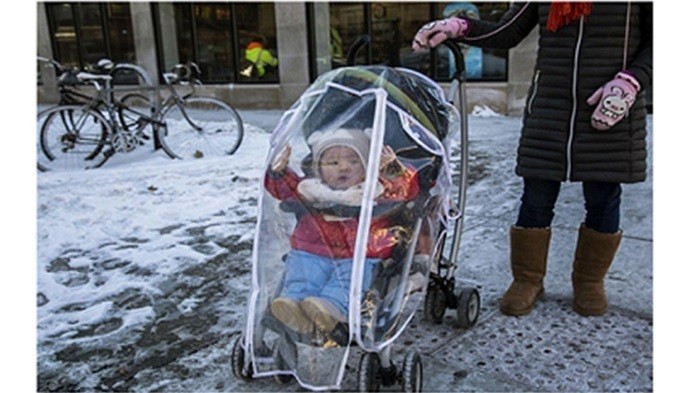 Recommended Strollers
Thule Urban Glide: Great all-round sports stroller (all-terrain stroller) with a sleek and lightweight design. The front wheel can swivel if you want, but you can lock it into place when you're on snow and ice. You can also purchase a car seat adapter, so the stroller will work for newborns and will fit children up to 75 pounds. Read more
Lightweight, weighs only 23 pounds (a good weight for a larger stroller). Easy-to-fold stroller, ideal for jogs on muddy trails or in uncertain weather.
Bumbleride Indie Baby Stroller: Lighter all-terrain stroller (24 pounds), eco-friendly fabrics made from recycled plastics. It can accommodate newborns through preschoolers and beyond, holding children up to 55 pounds.
Chicco Activ3 Jogging Stroller: Allows you to adjust the suspension, comes with a weatherproof canopy and reclining seat so older children can lean back. Compatible with various Chicco infant car seats so you can use it with a newborn and then with riders up to 50 pounds.
Baby Trend Expedition Jogging Stroller: Equipped with adjustable, reclining, padded seat and all-terrain tires.
Mountain Buggy Mini Travel System: Aerotech, puncture-proof tires, folds easily. Comes fully equipped with car seat and accessories.
Mountain Buggy Swift Compact Stroller: 10″ tires makes it easy to navigate city streets and rough terrain.
BOB Sport Utility Jogging Stroller: Features giant 16″ knobby tires. Cs compatible with infant car seats, allowing you to use the stroller for a newborn, and then children up to a mighty 70 pounds.
Bob strollers are also very good for snow/winter, they have super big wheels, and and can handle hash winters. They may not look as pretty as some of the other ones on the market, but they are really good for winter (and for outdoor use). They are fantastic for running, have shocks for trail running and hiking.
More All-Terrain Strollers here
Conclusion
If you live in a loation where winter are really cold, you need a stroller that is easier to push when the snow starts falling and the sidewalks turn to slush. These strollers are perfect for use in winter when its cold, snowing (snow or ice), and you still need to get things done. Good winter strollers have larger wheels and are generally heavier.
Also Read: Must-have Stroller Accessories for Winter