Summer Infant Rayshade Stroller Cover is the perfect UV protective accessory you need to protect your little one from the sun's harmful rays while on the go. No matter what the sun's angle, this UV protective stroller cover can extend the stroller canopy coverage from head to toe.
Summer Infant Rayshade: Pros & Cons
Pros: Excellent sun protection. Stretchy fabric and velcro makes it work with most strollers.
Keep it in the basket if you don't need it.
Cons: Flimsy. Not a "cute" stroller accessory. Takes some fiddling to attach (not one of those shades that you attach under 10 seconds). It folds with the stroller but when you fold the stroller, the shade shape gets deformed (many remove it when folding up the stroller).
Summer Infant Rayshade: Review
Planning a trip to the Disney World? Make sure you pick one of these.
The ray shade is a flexible stroller cover that extends the stroller canopy from head to toe as needed, depending on the sun's angle. The water-repellent fabric also protects from rain.
Most strollers already have sunshade built into them but they aren't adequate, especially when facing the sun head on. That is where this product is so useful. It keeps the sun out of your baby's face.
You can extend the shade pretty far forward over your baby, depending on how it's positioned (though…it won't provide shade for the evening/morning walks when the sun is near the horizon). If you have a tall baby, you can put on socks or sunblock to protect is toes.
Some parents feel its a bit cumbersome to use it (because of its large size) but offers much better sun protection than the built-in canopy available on most strollers. Once you figure out how it attaches, this is a great product to have.
Note: The shade can only be used on strollers/push chairs that already have a sunshade (its not sturdy enough to be used on its own). It needs an existing arch to shape it (it remains completely flat without one).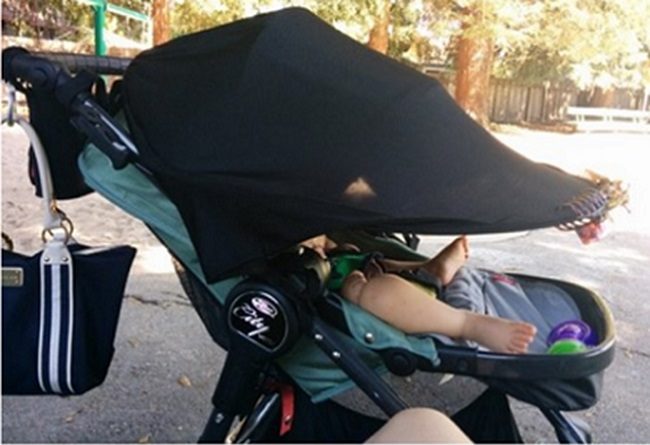 How to Attach Summer Infant Rayshade
This shade is made from thin stretchy material, and comes with four Velcro straps, which you use to attach the shade to the stroller. Some parents add a water bottle in each side pocket so it forms better.
The rayshade is basically a metal hoop, some black lycra, and velcro straps.
Its a simple sunshade designed to fit onto strollers/pushchairs, it extends the sun canopy to fully shield from the sun. Once its attached, you can pull it down further if the sun still bothers your baby's eyes.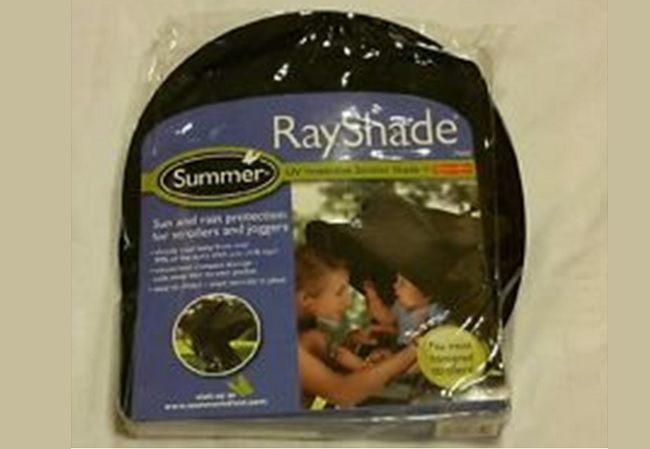 Summer Infant Rayshade: Features
Features of the Summer Infant Rayshade Stroller Cover:
Made of Cotton
Tested and rated at 50+ upf
Shields your baby from sun's uva and uvb rays
Spreads over a wide area, extends the protective shaded area under every stroller canopy





The fabric is Water-repellent, which means it also protects from rain
Comes with hidden pocket that can hold bottles and sippy cups upright
Dimensions: 9.9 x 7.9 x 1.3 inches, Item Weight: 8.8 ounces
Buying Links & Pricing
Overall, a great sunshade that does it job well (of providing shade). Its not one of the most aesthetically-pleasing products, but its function works very well. It fits great on most strollers and blocks out the sun well.
The rayshade UV protective stroller cover provides important protection from the sun's harmful rays. The rayshade extends the stroller canopy from head to toe as needed by the sun's angle.
Checkout more stroller accessories / shades here.