Thule 'Chariot Cross' multisport trailer: Thule has upgraded its Chariot line for 2017. The upgrades include new components and a more compact design. Can be used for multiple outdoor sports.
Thule 'Chariot Cross' Stroller: Review
The Thule Chariot Cross is the perfect stroller for parents, who are multi-sport athletes. It can be used as a bike to run, can be used to ski as the season changes.
And now, its also compact and can easily fit into the car for easy transport.
With a modular design and various attachments, you can pull, push, roll, and glide over snow with baby in tow.
Several Thule 'Chariot Cross' owners have put hundreds of miles collectively on the Thule already, through sun, rain, wind, snow, and mud.
Thanks to a rain cover and sunshade, you can control and optimize the climate in the child's cockpit (temp-regulated cabin with a good view).
The Chariot is a great stroller if you want to get back to your pre-pregnancy fitness levels; its the ultimate baby transporter and take-the-kid workout tool.
Thule Chariot Cross: Pros & Cons
Pros: Compact, Rugged, Several Configurations, storage and extra cargo space
Cons: Expensive, Heavy
Thule Chariot Cross Modular Stroller Review
The Thule Chariot Cross Modular Stroller comes with the stroller and bike-tow kit. You have to pay extra for the running kit and the winter kit.
So this is an expensive stroller.
But if you're an athlete who loves taking your little one on adventures, this is actually an investment that you will make, which you will use for years to come.
You can start from home using the bike, and then later lock up the bikes to run a trail, converting it from a tow-behind to a jogging stroller (takes just a couple of minutes).
The storage and extra cargo space is a plus. You can use this space for errands at the grocery store or for full-day family bike trips where lots of gear is required. The large cargo bag is accessible to the cart "driver." However, the user manual lists the max weight capacity at eight pounds, which seems low for the size and overall quality of the Chariot. The cargo bag also folds up when empty, allowing for more legroom when walking or jogging.
Compared to the previous models of the Chariot, the upgraded version is smaller and compact (almost 10 inches shorter than before), which makes it easier to transport and fit into cars.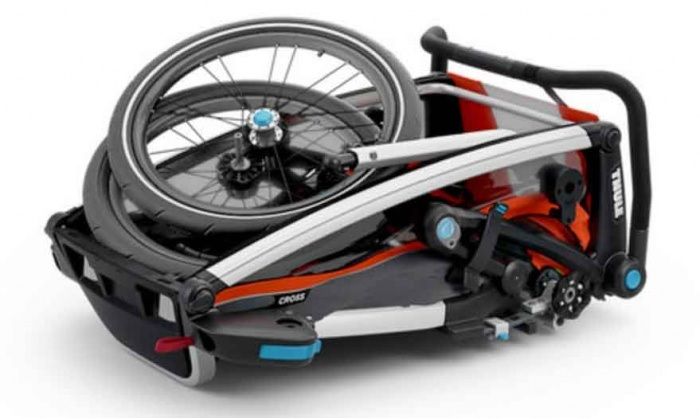 Thule has also added a plastic step to help toddlers get in and out of the stroller on their own. The shoulder straps are now removable and washable.
In addition, all of the materials used on the stroller are now Bluesign approved (environmental-friendly, and non-toxic and not harmful to the baby).
When the Chariot is in running mode, three fixed inflatable wheels track straight. It's comfortable for the "driver" pushing, and the baby inside glides mostly bump-free. The adjustable suspension helps even more. I can dial how stiff the stroller rides, so your little one can fall asleep to the sway of the stroller as you run.
The Chariot Cross's wheels lock and handle grip adjusts for drivers of various heights. The screen, rain cover, and sunshade all roll up and tuck away in storage pockets along the stroller.
To go from walk-behind to tow-behind for biking, the front wheels pop out and sit in integrated holders. The tow bar nests alongside the child compartment. Remove it to slide it into place and attach it with a pin.
Likewise for jogging, the front wheels stow and a large third wheel takes their place.
When stowing the stroller for transport, the front and rear wheels have lever and push-button releases, respectively.
In bike-trailer mode the Thule weighs about 30 pounds. Add a 13-pound baby and some gear to the equation and it makes for a serious load.
So its heavy, but still manageable. Besides, it gives you a good workout, and that's what you want from it…isn't it? When pulling the trailer on a bike, you're burning more calories.
Also, except for hills, the pulled weight is not a big deal. The system is so sleek that for flats and especially anything downhill sometimes I hardly notice it's there.
Thule Chariot Cross Multisport Trailer: Demo / Video Review
Watch: Multisport trailer – Thule Chariot Cross


Thule Chariot Cross Stroller/Trailer: Features & Specs
Adjustable handle
Meets ASTM Standards
Wipe Clean with a Damp Cloth
Max. Stroller Weight Capacity: 75 pounds
Suggested Age: 0-5 years
Material: Aluminum
Dimensions: 43.5 inches H x 27.5 inches W x 48 inches D
Weight: 29.7 pounds
Warranty Description: Lifetime Limited Warranty
No battery used
Thule Chariot Cross Multisport Trailer: Buying Links & Pricing
–See full details on the Thule Chariot Cross stroller.
Checkout more strollers here.